Apple says its retail stores now require reservation for iPhone 4S buyers

Apple said Monday that customers looking to purchase a new iPhone 4S from its US or Canadian based retail outlets will first be asked to make a reservation online, suggesting that record-setting sales of the device coupled with an upcoming international expansion are straining availability.Â
Apple's "how-to-buy" iPhone webpage now advises that customers can check back online after 9 p.m. where they can attempt to make a reservation for pick up the following day. Customers can check stock availability at each store before they make a reservation, and must select which carrier, color, and capacity they require.
iPhone 4S is available in store by reservation only. Reserve yours after 9:00 p.m. tonight for pickup tomorrow. When you come in, you'll choose a carrier and plan, and we'll get your iPhone up and running before you leave the store.
Apple is instituting the restrictions in other countries as well, noting that only on-contract phones are available to walk-in customers, while both on-contract and SIM-free models can be purchased by reserving the night before.Â
Apple's in-store reservation requirement is nothing new and underwent significant re-engineering alongside the release of the second-gen iPad. As AppleInsider exclusively reported, the back-of-the-house process actually sees Apple retail stores work a day behind its inventory:
A person familiar with Apple's retail operations informed AppleInsider this week that the new shipment of iPad 2 stock sold by some stores on Tuesday was actually delivered on Monday. Apple is said to have elected to hold the inventory for a next-day sale to grant its inventory control specialists the time to "calmly and accurately" process new shipments.
It was suggested that the change could be a "lesson learned" following the launch of major in-demand products in 2010: the iPhone 4 and first-generation iPad. For those launches, Apple's reservation system was said to have been plagued by a myriad of problems, including technical glitches that caused reservations to disappear, and resellers attempting to "game" the system.
Apple's previous strategy was to get products from the pallet to the shelf as fast as possible. But that approach was said to have caused "utter havoc" for Apple's retail employees, and led to inventory inaccuracies.Â
Under the revised strategy, Apple retail stores know exactly how many units it has to offer up for reservations the following day, allowing it automatically accept a specific number of reservations that it can guarantee to customers.
In years past, any excess iPhones or iPhone reservations that go unclaimed by the end of the day are made available for sale to walk-in customers.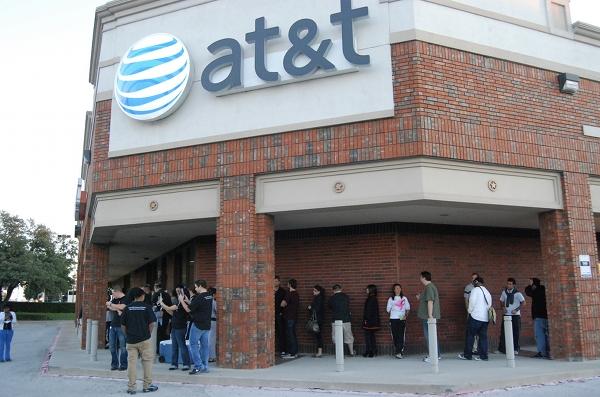 Crowd awaiting iPhone 4S on launch day | source: AT&T flickr
The iPhone 4S is currently available in the U.S., Australia, Canada, France, Germany, Japan and the U.K., with availability coming to 22 more countries by Oct. 28, and more than 70 countries by the end of the year.