Apple launches Steve Jobs tribute site with personal messages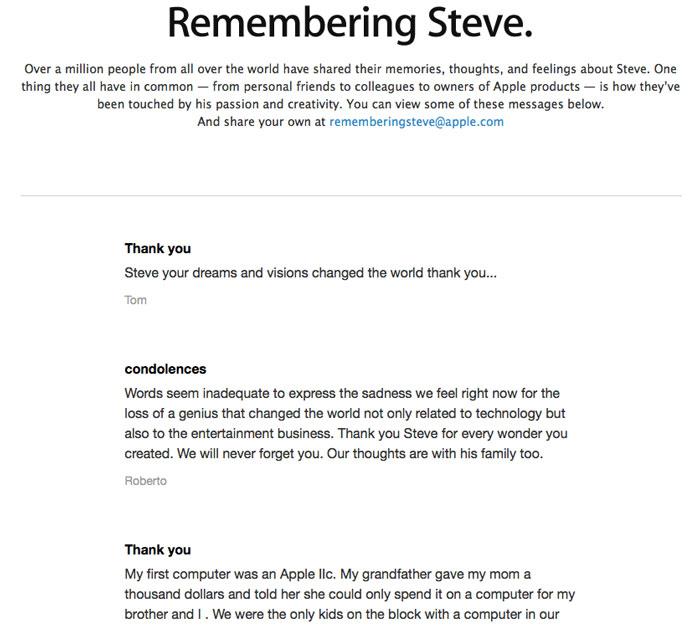 Compiling some of the many e-mails the company has received since the passing of Steve Jobs, Apple launched a new feature on its website on Wednesday called "Remembering Steve."
The tribute site, at apple.com/stevejobs/, continuously scrolls with personal messages sent in by customers and admirers of Jobs. Submissions are still being accepted at the address [email protected].
"Over a million people from all over the world have shared their memories, thoughts, and feelings about Steve," the sit reads. "One thing they all have in common — from personal friends to colleagues to owners of Apple products — is how they've been touched by his passion and creativity."
The memorial page arrives as Apple is set to hold a celebration of the life of Jobs at its Cupertino, Calif., campus today. Apple's retail stores will temporarily close from 10 a.m. Pacific to 11:30 a.m., allowing employees to watch a live broadcast of the event.
Another, more private tribute to Jobs was held on Sunday at Stanford Memorial Church, attended by Apple executives, family, friends and dignitaries, including former U.S. President Bill Clinton. It also included performances from cellist Yo Yo Ma, singer Joan Baez, and U2 frontman Bono.
Jobs passed away on Wednesday, Oct. 5 at the age of 56 after a long bout with cancer. A smaller service, featuring friends and family, was held just a few days after the Apple co-founder died.