Apple takes 56% of AT&T smartphone activations as iPhone 4S hits 1M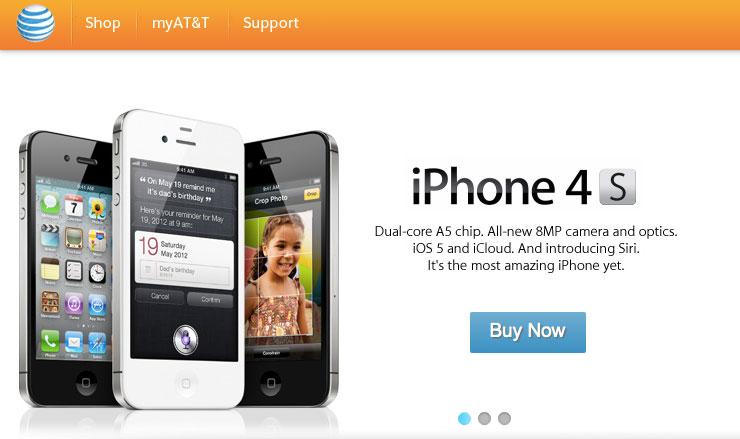 AT&T announced on Thursday that it activated 2.7 million iPhones last quarter, while it activated more than 1 million of the iPhone 4S alone since it launched last Friday.
Apple retained a majority of all smartphone sales at AT&T last quarter despite the fact that the carrier is no longer the exclusive provider of the iPhone in the U.S. This year, Apple added Verizon and Sprint as official carrier partners, and is even expanding the iPhone to smaller regional carriers like C Spire.
The iPhone accounted for 56 percent of smartphone activations at AT&T even as the presence of devices running Google Android continues to grow on the nation's second-largest wireless carrier. AT&T, in a press release accompanying its quarterly results, boasted that sales of Android devices and more than doubled year over year, making them, along with "other non-iPhone smartphones" nearly of all smartphone sales at the carrier.
AT&T also announced it activated more than a million iPhone 4S units as of Tuesday, which makes it the most successful iPhone launch in the company's history. The company's press release said AT&T is the only U.S. carrier to offer the iPhone 4S "with 4G speeds."
"It's no surprise that customers are clamoring for the iPhone 4S and they want it to run on a network that lets them download twice as fast as competitors'," said Ralph de la Vega, President and CEO, AT&T Mobility & Consumer Markets.
As for last quarter, AT&T had a 2.1 million increase in total wireless subscribers, putting it over the 100 million customer milestone. Its strong iPhone performance came despite the fact that Apple did not release an updated handset in the September quarter, as the iPhone 4S was only announced and released this month.
Apple also reported its earnings this week, and said the fact that it did not launch a new iPhone in the previous quarter led to significantly reduced sales as rumors of the iPhone 4S grew. Apple Chief Executive Tim Cook said there was a very clear drop in iPhone sales at the end of the quarter as speculation over the iPhone 4S continued to mount.
In the previous quarter, AT&T activated 3.6 million iPhones, while Verizon activated 2.3 million of just the iPhone 4. AT&T remains the exclusive U.S. carrier of Apple's GSM-only iPhone 3GS, which is now available for free with a two-year service contract.
Verizon is set to report its earnings on Friday, in which it is expected to detail its own iPhone activation numbers. Sprint only began selling the iPhone this month, so any activations would be represented in its next quarterly earnings report.