Combined Mac and iOS shipments make Apple world's second largest PC maker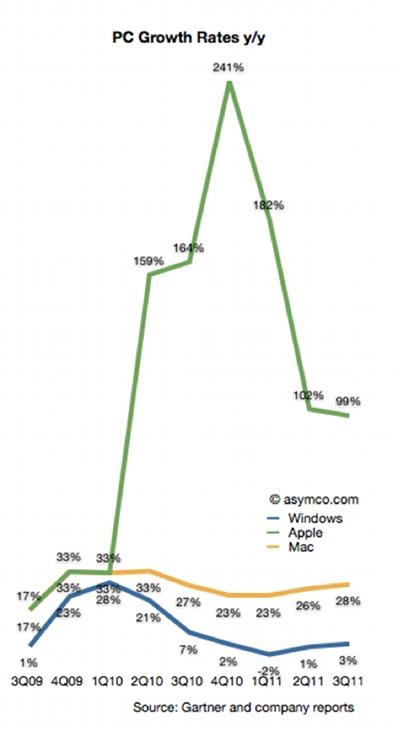 AppleInsider may earn an affiliate commission on purchases made through links on our site.
iPad and Mac shipments both outgrew the Windows PC market in CYQ3 2011, and if combined would boast a 99% growth rate and make Apple the second largest PC maker in the world.
In a report released on Tuesday, analyst Horace Dediu of asymco contrasts Apple's Mac OSX's 27.7% growth rate with Windows-based systems' 2.5% for the third quarter of 2011. He added that if iPads were included with Mac OS X, Apple's "computer" shipment growth rate would be 99%, making it the world's number two PC maker with 15% market share, falling just short of HP's 15.7%.
Apple sold a record 11.2 million iPad units in the quarter ending in September seeing a 166% unit growth, doubling the company's PC shipment growth despite a record-breaking 4.89 million Macs shipped.
During Apple's Oct. 18 quarterly earnings conference call, Chief Executive Officer Tim Cook admitted that iPad sales cannibalized Mac sales but that iPad growth is coming primarily at the expense of Windows PCs.
"With cannibalization like this, I hope it continues," Cook said.
By comparison, Windows PC makers are seeing "low-end disruption," or losses in market share over the last three years, with the most affected companies being smaller OEMs, which decreased 10.5% to around 30% share. Larger manufacturers like HP, Acer and Dell lost 2.6%, 3.9% and 3.4% share respectively, while Lenovo saw a 4.48% growth over the same period.
While small "other" OEMs have seen a decrease in share in the low-end PC industry, similar small companies are growing in the mobile phone sector as communication moves up market, which he calls "new market disruption." The "other" phone OEMs grew from 15% to 24% in the same quarter.
The analyst sees Apple taking advantage of the "low-end disruption" in the PC sector with the iPad, and "new market disruption" in the mobile phone market with its iPhone line.
Dediu suggested that the company's Mac business continues to grow alongside iOS devices is because its PC line "consists of 74% portables," with products like the MacBook Pro and Air being "largely unmatched" and having "a near monopoly in their target price."
Although Apple's Mac line has continued to see a higher growth rate than PCs for more than 20 quarters, Windows still holds the 82% of the market, followed by iOS with 10.5%, OS X with 4.7% and Android with around 3%.