Apple grows employee headcount to 60K, building space to 13.2M square feet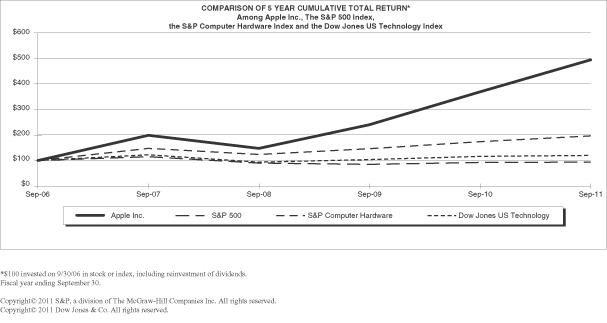 AppleInsider may earn an affiliate commission on purchases made through links on our site.
A recently filed 10-K form with the U.S. Securities and Exchange Commission by Apple reveals that the number of full-time employees at the company has swelled to 60,400, while owned or leased building space has increased to 13.2 million square feet.
">form for the 2011 fiscal year that ended on Sept. 24 indicated that Apple had increased its number of full-time employees from 49,400 to 60,400 in 2011, with 36,000, or nearly 60 percent, working at Apple retail stores around the world.
Apple reported 13.2 million square feet of building space, including 3.0 million for retail, for the year, mostly in the U.S. Last year, the company had 10.5 million square feet of space, with just 2.5 million set aside for retail. Additionally, more than 100 acres of land were acquired during the 2011 fiscal year.
The form also restated Apple's prior revelation that it is now sitting on $81.6 billion in cash plus short- and long- term investments.
The company's retail sector saw substantial growth this year with the addition of 40 new stores, 28 of which were international, bringing the total worldwide count to 357. Net sales for the segment increased 44% or $4.3 billion from 2010, accounting for 15% of total net sales, being mainly driven by demand for the iPad and iPhone.
In the filing, Apple broke out its net sales by region and product. Asia Pacific saw the most growth with a 174 percent boost year over year to $22.6 billion, while the Americas remained the largest region with $38.3 billion.
As for products, the iPhone made up more than 40 percent of Apple's net sales with $47 billion in revenue. The iPad saw 311 percent growth to earn $20.36 billion for the company. iPod revenue fell 10 percent year over year to $7.45 billion.
In terms of units, Apple sold a total of 72.29 million iPhones, 32.39 million iPads and 42.62 million iPods in the 2011 fiscal year. According to the filing, Apple's Mac portables now make up 72 percent of its 16.74 million computer sales.
Apple also noted that its gross margin for the year has climbed back up to 40.5 percent, up from 39.4 percent last year. The company attributed the improvement to "lower commodity and other product costs." Last year, Apple warned that its gross margin would decline largely because of the aggressive pricing of the iPad as a new product.
The company also reported that spending increased 37 percent to over $10 billion, up from $7.3 billion the year before. Research and development spending increased 36 percent or $675 million year-to-year, though its percentage of Apple's net sales actually fell from 3 percent to 2 percent.
Selling, general and administrative spending at Apple went up 38 percent to 7.6 billion in 2011, which is 7 percent of net sales. This includes advertising, retail and administrative costs, and has steadily fallen as a percentage of net profits over the past three years.
Apple's advertising costs grew to $933 million, a significant 35 percent increase from last year's $691 million amount.