Taiwan concerned Apple's slide-to-unlock patent could hurt market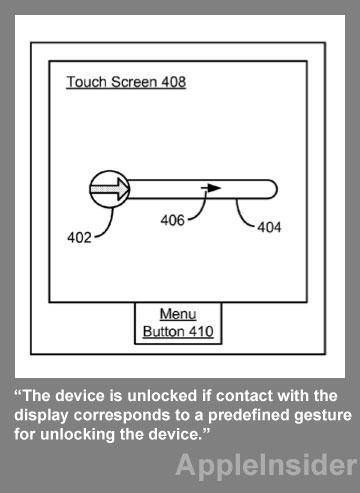 Government officials in Taiwan have expressed concern that Apple's recent success in obtaining a patent for the slide-to-unlock gesture on touchscreen devices could hurt competing smartphone makers.
This week, the U.S. Patent and Trademark Office awarded Apple another patent related to the slide-to-unlock gesture found on the iPhone, iPad and iPod touch. That key patent win for Apple has caused concern among officials in Taiwan, according to Focus Taiwan (via Electronista).
Taiwan Premier Wu Den-yih reportedly asked government agencies this week to assess the possible impact of Apple's patent win on local companies. One of the most noteworthy corporations based out of Taiwan is HTC, which has already seen patent litigation trouble with Apple.
Wu, speaking at a weekly cabinet meeting, is reportedly "very concerned" about the impact Apple's new patent could have on Taiwanese companies, especially those who compete with Apple to sell smartphones and tablets. He directed the country's Ministry of Economic Affairs and Industrial Research Institute to look into the matter.
As a result of his actions, those two agencies could end up collaborating with Taiwanese companies to settle potential patent infringement lawsuits with Apple, if need be. The premier reportedly said that the agencies should "do their best to help defend the legitimate rights and interest of local companies in any patent fights with Apple."
Apple's newly awarded patent has been viewed as a victory for the company, with onlookers speculating that touchscreen products running the Google Android operating system could be found in violation. Apple has been engaged with a number of Android device makers beyond HTC, including Samsung and Motorola.
In the newly released authorized biography of Steve Jobs, the late Apple co-founder lashed out against Google's Android mobile operating system, calling it a "stolen product." Jobs's ire toward Android was made clear in an "expletive-laced rant" that he made to author Walter Isaacson.
"I will spend my last dying breath if I need to, and I will spend every penny of Apple's $40 billion in the bank, to right this wrong," he said. "I'm going to destroy Android, because it's a stolen product. I'm willing to go thermonuclear war on this."