Worldwide Mac browser share hits 6.9%, iOS takes 62% mobile share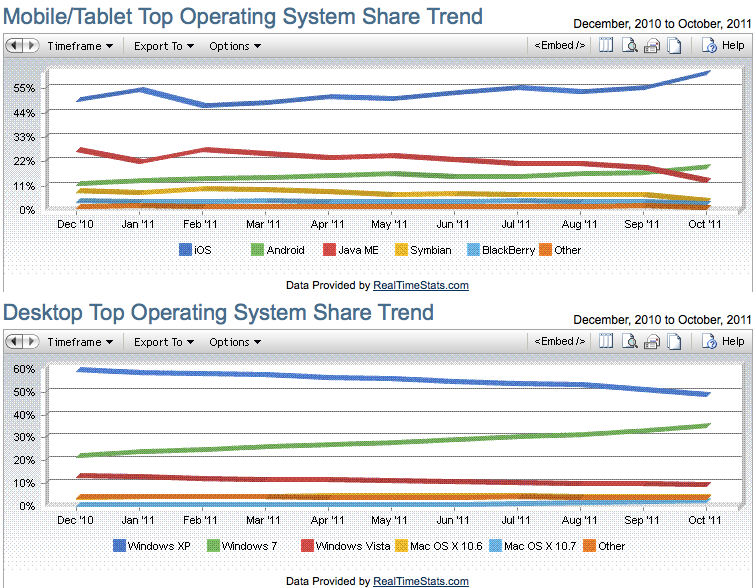 Apple's presence on the Web continues to expand, with browser use of both iOS and Mac OS X seeing growth in October that propelled the company to new heights.
The latest operating system share statistics from Net Applications show that in October, Apple's iOS platform continued to grow to a 61.64 perent share of the mobile device in October of 2011. That was up 7 percent from the 54.65 percent iOS represented among mobile devices in September.
Apple's share has continued to grow for the last year, and is up more than 10 percent from the 49.19 percent iOS held in December of 2010. Google's Android platform has also grown in that time, but represented just 18.9 percent of mobile devices browsing the Web in October.
The gains made by iOS and Android came at the expense of the Java Platform, Micro Edition, which is designed for embedded systems on mobile devices, such as so-called "feature phones." Java ME took 12.84 percent of mobile browsing in October, followed by Symbian at 3.48 percent, and BlackBerry at 2.48 percent.
Breaking down Apple's mobile devices, the data shows the iPhone as the dominant platform with 30.05 percent total global share. But perhaps more surprising is how close the iPhone is to the iPad, as Apple's touchscreen tablet accounted for 28.6 percent of mobile devices browsing the Web.
As for the operating system share of traditional PCs browsing the Web, Net Applications found that Apple's Mac platform also continued to grow in October. The Mac represented 6.94 percent of devices tracked online, up from 6.45 percent in September and considerably up from the 5.21 percent Apple represented in December of 2010.
As for what version of Mac OS X users are running, the data shows 10.7 Lion with a 1.83 percent global share of operating systems, behind the 3.62 percent controlled by 10.6 Snow Leopard. Microsoft's Windows Vista had an 8.85 percent share in October, Windows 7 represented 34.62 percent of machines, and Windows XP finally slipped below 50 percent to 48.03 percent.