Microsoft axed Courier tablet in favor of 'Windows Everywhere' strategy - report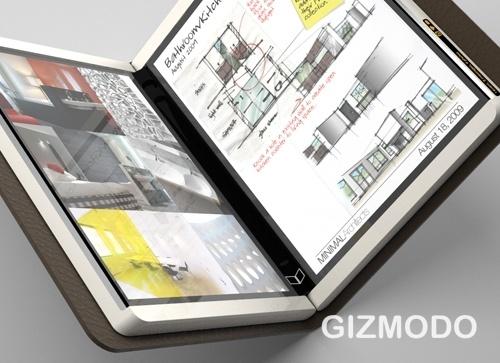 Software giant Microsoft scrapped the Courier tablet project last year because the device diverged from its strategy of bringing Windows everywhere without compromise, a new report claims.
With the Redmond, Wash. Windows maker, hard at work on both a slate computer in partnership with HP and a dual-screen Courier concept, Apple threw down the gauntlet by announcing the iPad in January of last year.
But, for Steve Ballmer, the company's CEO, it was competition between Microsoft's own executives, who disagreed on the future of tablet computing, that troubled him, rather than external competition from Apple, CNET's Jay Greene reported after interviewing 18 former and current Microsoft executives. The Courier team's lofty goals clashed with those of Steven Sinofsky, the company's Windows chief.
In light of the conflict, Ballmer reportedly had trouble deciding whether to allow the Courier team to continue and turned to Microsoft co-founder Bill Gates for help.
Gates set up a meeting with J Allard, the mastermind behind the project, and then Entertainment and Devices division President Robbie Bach, as well as two other Courier team members. According to Greene, Gates asked Allard how users would access email on the tablet. Allard reportedly told the Microsoft chairman that the team wasn't interested in building "another email experience," and that they viewed the device as focused on content creation.
"This is where Bill had an allergic reaction," a source told Greene. Gates then grilled Allard on the lack of Exchange and Outlook support, two of the company's most profitable products.
Shortly after the meeting, Courier was cancelled because it strayed too far from Microsoft's Windows and Office franchise, sources told CNET.
"A few months after that, both Allard and Bach announced plans to leave Microsoft, though both executives have said their decisions to move on were unrelated to the Courier cancellation," Greene wrote.
After a leak of the device in late 2009, the Courier concept generated a significant amount of hype among interested consumers. But, in April 2010, Microsoft VP of corporate communications Frank Shaw issued a statement putting to rest rumors surrounding the project.
"At any given time, across any of our business groups, there are new ideas being investigated, tested, and incubated," he said. "It's in Microsoft's DNA to continually develop and incubate new technologies to foster productivity and creativity. The 'Courier' project is an example of this type of effort and its technologies will be evaluated for use in future Microsoft offerings, but we have no plans to build such a device at this time."
But, tipsters told the publication that development of the Courier was further along than just a concept.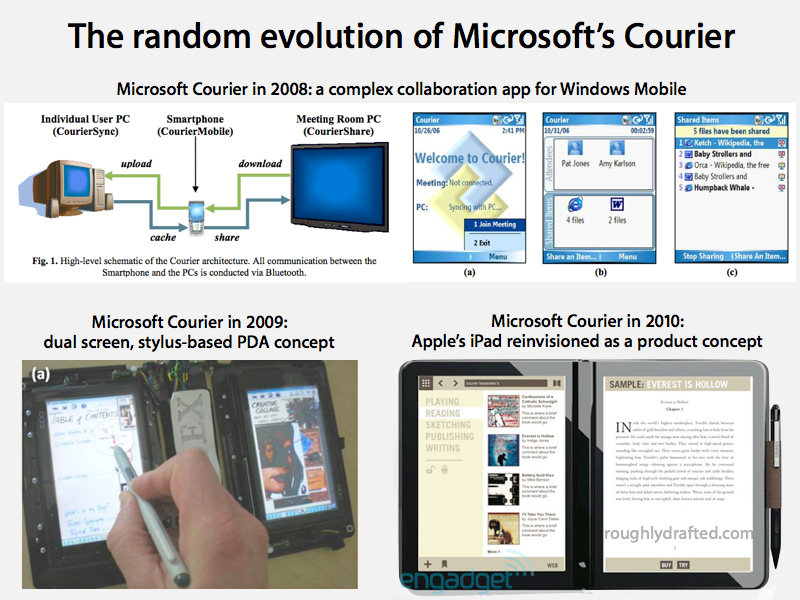 "There was extensive work done on the business, the technology and the experience," a member of the Courier team told Greene. "It was very complete, not a whim."
The team reportedly drew inspiration from the popular Moleskine brand of notebooks approached the device with a mission of "Free Create." The Courier operating system was based on Windows, but used a completely new interface.
According to Greene, "there was not a single prototype that contained all of the attributes of the vision: the industrial design, the screen performance, the software experience, the correct weight, and the battery life," when the project was cancelled.
"Those prototypes wouldn't have come together into a single unit until very late in the development process, perhaps weeks before manufacturing," he said, adding that the team was confident it was "moving quickly toward" a final prototype.
But Allard, who was known for being an iconoclast at Microsoft, even bucking company culture to use Apple products such as the iPod or the Mac, may have been ahead of his time with the Courier. He was seeking to develop new markets, rather than preserve Microsoft's operating system and productivity suite monopolies.
He was "incubating with his tribe, very much thinking consumer and very much thinking the next few years," said a former Microsoft executive. "He was trying to disrupt Microsoft, which hasn't been good at consumer products."
Microsoft went on to finish its Slate PC in late 2010, but the device was released directly to business customers and failed to gain traction.
The company is now putting its efforts into a "no compromise" tablet initiative for Windows 8 devices using an interface dubbed Metro. Tablets based on the ARM architecture are also planned, though traditional x86 applications will not run on Windows 8 ARM devices.
In September, Microsoft distributed Windows 8 tablet prototypes built by Samsung to its developers. The "pre-beta" device features a 1.6 GHz processor and 11.6-inch screen. Windows 8 is set to arrive sometime next year.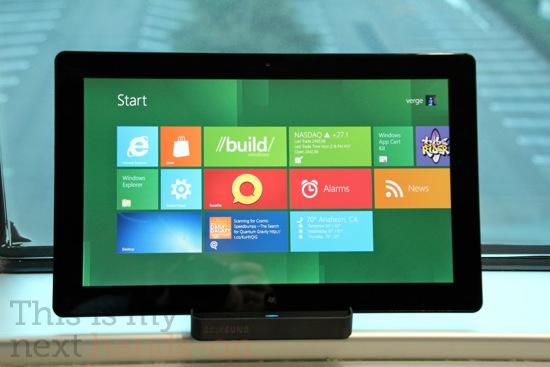 But, by 2012, Apple will have had a dominant 2 year head start in the tablet market. Research group Gartner expects Microsoft to sell just 4.34 million tablets in 2012, compared to Apple's projected 69 million. The iPad maker sold a record 11.12 million tablets in the most recent September quarter.