Apple remains top US smartphone maker as iPhone holds 28% share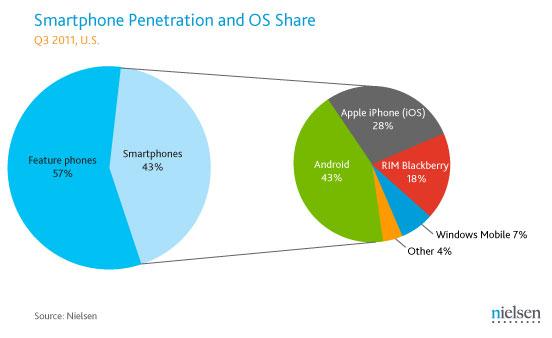 AppleInsider is supported by its audience and may earn commission as an Amazon Associate and affiliate partner on qualifying purchases. These affiliate partnerships do not influence our editorial content.
With the iPhone representing 28 percent of smartphones in the U.S., Apple is still the No. 1 domestic smartphone manufacturer, according to the latest data from Nielsen.
While Apple remains the top smartphone maker, Google Android also retained its place as the most popular smartphone operating system in America. The survey found that Google's Android is the operating system on 43 percent of smartphones in the U.S.
Those numbers are unchanged from Nielsen's previous report issued in September, when the research firm also found a 28 percent share for the iPhone and 43 percent share for Android. In fact, Apple's 28 percent market share was also present in June.
Coming in third in the latest results, released on Thursday, was Research in Motion's BlackBerry platform, which accounted for 18 percent of smartphones. Microsoft's Windows Mobile took fourth with a share of 7 percent.
In all, smartphones now represent 43 percent of active handsets in the U.S. Most customers — 57 percent — still use "feature phones" instead.
The latest data from Nielsen did find that most adults aged 18 to 44 have, however, made the jump to a smartphone. A total of 62 percent of adults between the ages of 25 and 34 reported owning a smartphone, while the age groups of 18-to-24 and 35-to-44 were both said to have around 54 percent smartphone penetration.
But smartphones are much less popular outside of those age groups, dragging down the overall national average. Smartphone penetration in the 56-to-64 age group is just 30 percent — up 5 percent in the quarter — while 40 percent of children ages 12 through 17 reported owning a smartphone.