Apple leverages deep pockets to gain supply chain edge over rivals - report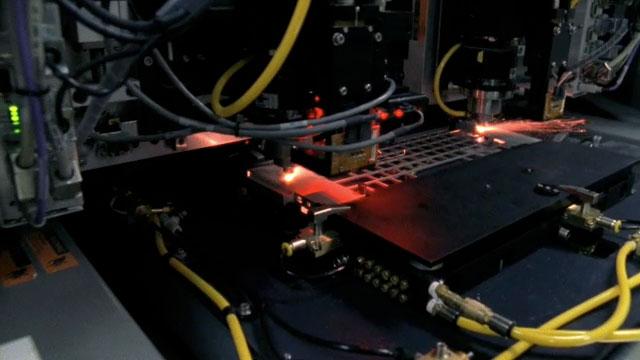 A close look at Apple's supply chain has revealed that the company wields upfront cash payments and a highly-focused logistics ecosystem, largely credited to Chief Executive Officer Tim Cook, as "strategic weapons" to secure a significant advantage over its rivals.
According to an in-depth report by Bloomberg BusinessWeek, Cook distributes the book Competing Against Time to colleagues to drive home the point that Apple's supply chain is a remarkably powerful weapon.
Apple's new chief is known to place a high value on efficiency. "Nobody wants to buy sour milk," he often says, according to logistics executive John Martin who has worked with the company in the past.
Though the late Steve Jobs admitted to biographer Walt Isaacson that his successor is "not a product guy, per se," Cook is widely acknowledged as an operational genius who helped tighten up Apple's supply chain into the efficient machine it is today.
And, in addition to Cook, design chief Jony Ive has played a part in honing Apple's supply strengths. Jobs said that before he left Apple, he set up the company so that Ive, his "spiritual partner," had "more operational power" than anyone else there.
For instance, the report noted that, roughly five years ago, Ive wanted to design a new MacBook with a green light that could shine through the aluminum casing to indicate when the notebook's camera was in use. Unable to find an available solution, Ive and his team discovered a customized laser process that could perforate the metal. Apple then signed an exclusivity agreement with a company that made laser equipment, purchasing hundreds of machines for as much as $250,000 each.
Even Apple's rivals have recognized that it is reaching new heights in terms of operational efficiency.
"Operations expertise is as big an asset for Apple as product innovation or marketing," Mike Fawkes, the former supply-chain chief at Hewlett-Packard, told Bloomberg. "They've taken operational excellence to a level never seen before."
The iPad, Apple's newest product line, speaks to the company's success. Competing tablet makers have had difficulty matching the iPad's price, even with devices that sport smaller screens and lower specs.
"Our potential competitors [in tablets] are having a tough time coming close to iPad's pricing. iPad incorporates everything we've learned about building high value products. We create our own A4 chip, software, battery chemistry, enclosure, everything," Jobs said last year.
But, the company's steady focus on world-class supply-chain management has been in the works since around the time when Jobs came back to Apple in 1997. According to Martin, Jobs paid $50 million in 1998 to book holiday air freight space for the first iMacs. When rivals, who generally chose to transport their goods by sea, needed air shipping that year, they were left out in the cold.
Changes that Apple made to its shipping process have been watched carefully by the company's competitors. According to Fawkes, an HP staffer had an "'Oh s— ' moment" after using Apple's website to track the purchase of an iPod all the way from a factory in China.
Ive and his team reportedly work closely with manufacturers and suppliers to fine-tune production, sometimes living for months out of hotels located close to the company's partners. For example, in 2008, Apple released new Macbook computers with unibody cases built from a single block of aluminum. Competing notebook makers have struggled to find manufacturing capacity for their own aluminum chassis, resorting instead to fiberglass or other materials.
Apple has "a very unified strategy, and every part of their business is aligned around that strategy," said Gartner analyst Matthew Davis. For the past four years, Davis has ranked Apple as the world's best supply chain.
With more than $81.6 billion in cash as of last quarter, Apple has room to flex its weight by negotiating cash deals and bulk pre-payments. The company has negotiated prepaid deals for NAND flash, displays and other, sometimes secret, components. Apple is planning to spend $7.1 billion supply chain-related capital expenditures this year, almost twice as much as last year, as well as $24 billion in prepayments to suppliers, according to the report.
In 2010, Apple bought up the available capacity of high-resolution displays for its iPhone 4, blocking HTC from procuring the screens it needed, said a former manager at the Taiwanese handset maker. In preparation for the iPad 2, Apple purchased so many drills that other companies saw wait times for the machines expand to six months, a manager at the drill maker told the publication.
Earlier this year, after a devastating earthquake and tsunami in Japan threatened component supplies, Apple reportedly offered upfront cash payments to secure parts ahead of its competitors.
Historically, Apple's successes have trickled down to its suppliers and partners, but not every company jumps at the opportunity to work with Apple. One executive at a "major parts manufacturer" told reporters that his company hard turned down a $1 billion payment from Apple because he feared being too dependent on the iPhone maker and worried that it would deflate prices.
Apple's notorious secrecy also comes into play within the supply chain. Ahead of new product launches, the company often stations employees at each handoff point to guarantee that nothing goes missing. Apple has even reportedly been known to ship its products in tomato boxes to avoid unwanted attention.
As the company's streamlined product portfolio, cross-device synergies (such as flash memory and A-series processors) and well-organized supply chain have come together, it has leveraged economies of scale to keep its prices down and its profits up. With competitors fighting to keep up with pricing in recent years, Apple has begun to erase the earlier notion that its products come at a premium.
If anything, Apple has struggled to ramp up manufacturing of the iPhone and iPad in order to meet demand. Both the iPad 2 and iPhone 4S saw overwhelming demand when they were released earlier this year.