AT&T launches iPhone app for VoIP international calls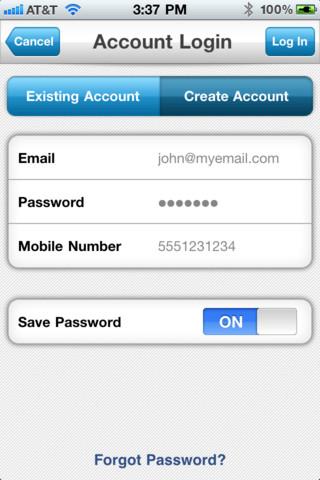 AppleInsider is supported by its audience and may earn commission as an Amazon Associate and affiliate partner on qualifying purchases. These affiliate partnerships do not influence our editorial content.
AT&T has launched its own "Voice over IP" app to enable its smartphone customers to place cheap international phone calls, two years after voicing support for Skype and others to similarly use its 3G network to originate internet calls.
The new AT&T Call International app piggybacks on the VoIP network of 8x8, but is novel in that it is branded by the carrier itself. The new service allows users in the US to call international phone numbers through the new app over 3G for far less than placing international calls over AT&T's own network. Internationally, users can access the app to place calls whenever WiFi is available.
AT&T's new VoIP app charges 4 cents per minute to wireline numbers in China, France, Germany and the UK, 8 cents to Mexico and 9 cents to India. When calling wireless numbers, the app bills 21 to 27 cents a minute to call European numbers, while wireless numbers in China and India are priced the same.
In addition to working on all iPhones, AT&T's VoIP app also works on select Android and BlackBerry models (although only iPhones and some Android models can place WiFi calls internationally). The service bills users directly (and separately from their AT&T account), with no contract or minimum calling required.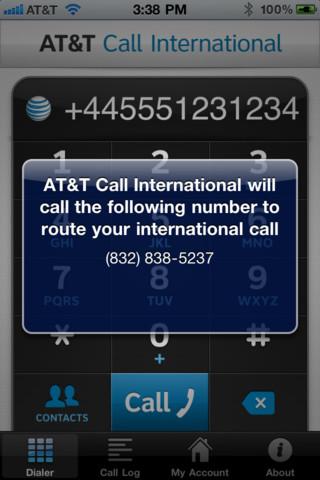 Historically, VoIP services such as Skype and Vonage have offered to bypass traditional phone networks, offering their users a much cheaper option for placing international calls that use the Internet rather than conventional telephone links.
In October of 2009, AT&T announced that it was reconsidering its opposition to VoIP apps allowing smartphone users to place Internet calls over 3G; prior to that, services such as Skype were restricted to only work over WiFi.
AT&T president and chief executive Ralph de la Vega stated at the time that "iPhone is an innovative device that dramatically changed the game in wireless when it was introduced just two years ago. Today's decision was made after evaluating our customers' expectations and use of the device compared to dozens of others we offer."
Apple subsequently added support for iOS apps to place VoIP calls over 3G mobile networks in January 2010.
Six months later, in iOS 4, Apple added support for its own VoIP service called FaceTime, although the new service, then exclusive to iPhone 4, was billed as a video conferencing app and offered no option to place audio-only calls, apparently in an effort to avoid antagonizing its carrier partners.
Apple has since added FaceTime support to iPod touch, iPad 2 and Mac desktop users, allowing users to place free video calls over the Internet without any underlying telephone service.
This fall, Apple added iMessage to iOS 5, a feature that similarly replaces SMS/MMS services with Internet-based communications that mobile carriers can't charge extra for, an extension of the iPhone's strategy of promoting free, Internet-based messaging such as rich email over fee-based communications proprietary to the mobile carriers.
iMessages similarly works on iPod touch and iPad devices, and Apple is expected to add support for iMessage communications in Mac OS X for desktop users.