Retail self-checkout, pickup options added to Apple Store app for iOS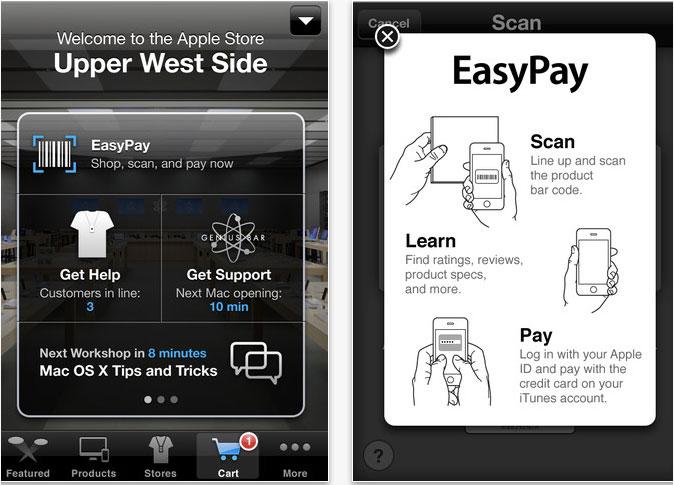 Apple has updated its official Apple Store application for iOS, adding the new "Personal Pickup" option, as well as an "Easy Pay" feature, which allows customers to pay for an item on their own, direct from an iPhone, while in a retail store.
The Apple Store application was updated on Tuesday to version 2.0 (iTunes link). The free application is a 4.0MB download that requires iOS 4.2 or later, and is compatible with the iPhone, iPod touch and iPad.
The most significant new features in the update are EasyPay and Personal Pickup. With EasyPay, an iPhone 4 or iPhone 4S user can scan the barcode of an accessory while in a store, and complete the transaction using the same credit card information tied to their Apple ID.
Word of the self-checkout option first surfaced last week, and accurately revealed that the option would only apply to accessories and items found on the shelf. Users cannot complete a self-checkout with more expensive items that are kept in Apple's retail stockrooms, including the iPhone, iPad, iPods or Macs.
The updated Apple Store application also features a built-in Personal Pickup feature. With the software, users can buy an item on their iOS device, and then pick it up in a store in less than an hour if it is in stock.
Apple began offering an in-store pickup option on its website last month with a trial that began in San Francisco, Calif., and quickly spread to New York City stores. The in-store pickup option is currently available in the U.S. only.
The full list of new features included in version 2.0 of the Apple Store iOS application are included below:
Personal Pickup: Buy in the app and choose to pick up your order at any Apple Retail Store. Most in-stock orders are available for pickup within an hour. (U.S. only)
EasyPay: Purchase select accessories in store quickly by scanning the barcode and completing your transaction right in the app. (U.S. only, requires iPhone 4 or iPhone 4S)
Track your stuff: View the status of current and previous orders from the order status section in the More tab.
Additional international support (Canada, China).