Hong Kong sees iPhone 4S frenzy even without Siri support for Chinese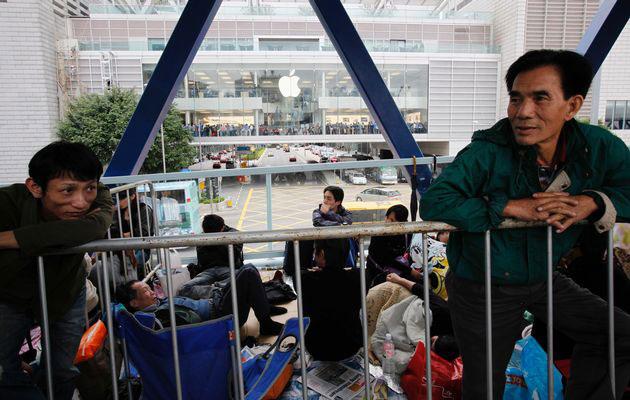 The entire stock of iPhone 4S units sold out on launch day in Hong Kong in just under three hours, even though Apple's Siri voice recognition doesn't work with the Chinese language.
The new Apple store in Hong Kong and Apple-authorized resellers in the city all sold out of iPhone 4S inventory within three hours on Friday according to Brian White, an analyst with Ticonderoga Securities. He noted that Apple's online store in Hong Kong told visitors that there is "no supply" of iPhone 4S available.
Pent-up demand for the iPhone 4S occurred even though Siri, one of the major new features found in Apple's latest handset, does not contain support for the Chinese language. Apple has promised that Siri support will come to additional languages, including Chinese, Japanese, Korean, Italian and Spanish, in 2012.
More specifically, White said his sources have indicated that Siri will understand Mandarin, the most popular form of the Chinese language, by March of 2012. It is estimated that about 850 million people in China speak Mandarin. In Hong Kong, the most popular form of Chinese is Cantonese.
White expects Apple will launch the iPhone 4S in mainland China in December. He noted that during its September quarter, Apple generated $4.5 billion in revenue from Greater China, representing year-over-year growth of 270 percent. In all, Apple generated $13 billion in sales from China in its 2011 fiscal year, compared to $3 billion in 2010.
A line for the iPhone 4S at Apple's retail store in Hong Kong on Friday. Photo via Reuters/Times Live.
Apple current has a total of six retail stores in Greater China. The company's first store in Hong Kong, which was slammed with customers on Friday for the iPhone 4S launch, first opened in September with a view of Victoria Harbour at the high-end International Financial Center Mall.
While the launch and subsequent sell out of the iPhone 4S in Hong Kong has generated the most attention, it is not the only region where Apple's latest iPhone model went on sale on Friday. The device also debuted in South Korea, Albania, Armenia, Bulgaria, El Salvador, Greece, Guatemala, Malta, Montenegro, New Zealand, Panama, Poland, Portugal, and Romania.