OS X Lion growth stagnates at 16% Mac market share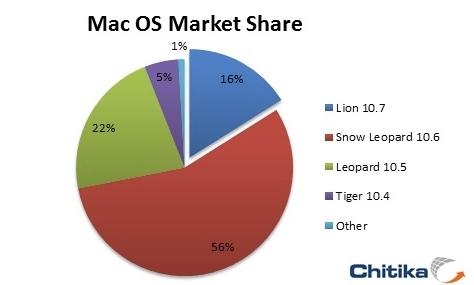 AppleInsider may earn an affiliate commission on purchases made through links on our site.
The adoption rate of Mac OS X 10.7 Lion has seen a drastic slowdown after enjoying strong initial sales and is only running on 16% of Macs, giving it the third largest install base behind Snow Leopard and Leopard.
Mac OS X 10.7 Lion is being run on 16% of all Macs after seeing a highly successful launch, but sales have slowed to a crawl, barely outpacing adoption of Apple's previous version Mac OS X 10.6 Snow Leopard which is installed on 56% of Macs, according to a study by analytics firm Chitika.
When Apple's newest Mac OS X launched in July, it saw booming sales topping one million downloads on launch day, with Apple calling it the company's fastest-selling OS ever.
The new study shows that, until September, Lion sales were consistent, seeing a 4.05% monthly growth rate, though that has slowed to an average rate of 0.98% over the past two months.
In early October, Apple CEO Tim Cook announced during his company's iPhone keynote that Lion was its best-selling OS to date, with an adoption rate surpassing its predecessor Snow Leopard by 80%, netting over six million downloads. Cook went on to compare the launch of Lion with Microsoft's Windows 7, which he said took 20 weeks to reach 10 percent of the PC install base, a feat Lion accomplished in just two weeks.
"The once hyped OS X Lion is now in a state of arrested development; they're growing, but not nearly at the rate newly released operating systems have grown in the past," writes Chitika's Ryan Cavanagh in the company's blog. "Historically Mac users are quick to adopt the latest Apple software, as in the case with our iOS5 report, leading us to believe there are some real issues preventing users from making the $29.99 upgrade."
Cavanagh goes on to say that Lion's downtick in sales may be attributed to stability issues with the OS, and cites user complaints over iOS-like features that give would-be adopters pause when deciding to upgrade.
Lion is slowly gaining ground on Mac OS X Leopard, which holds a 22% share of the market, though it seems unlikely that it will overtake leader 10.6 Snow Leopard any time soon as the older OS also continues to increase its 56% share.