Web stats indicate Mac OS X Lion still growing very fast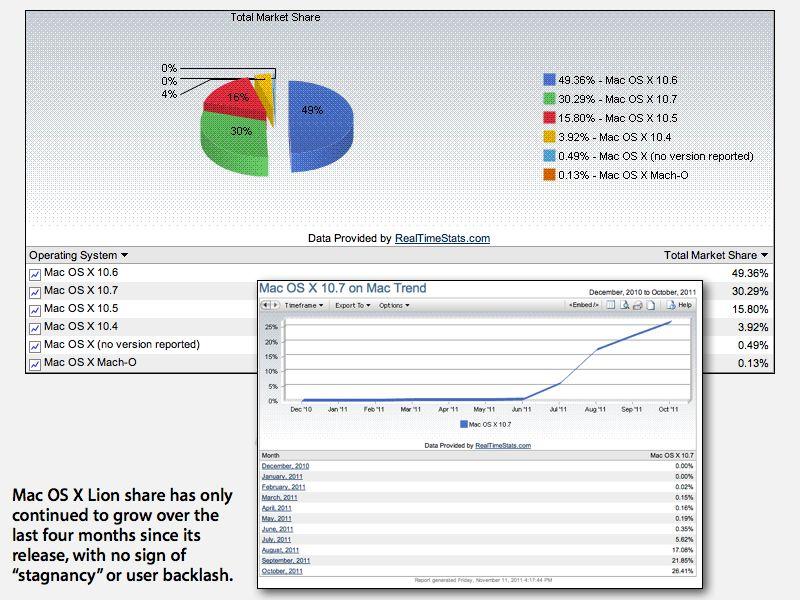 Contradicting a report by advertising network Chitika describing Mac OS X Lion as stagnating, web analytics firm Net Applications reports Apple's latest OS has already taken a 30 percent share of the active Mac installed base in just over three months.
Chitika reported that in its latest checks, Mac OS X Lion had only reached a 16 percent share, declaring that "the once hyped OS X Lion is now in a state of arrested development."
The firm compared Lion upgrades to the rapid pace of iOS 5 upgrades, and blamed issues with Lion, including its iOS-inspired interface, as the reason for the slower pace of Mac users adopting the latest OS.
In reality, however, the $29.99 price of Lion and its more complex upgrade process is likely a more significant barrier to Mac users upgrading compared to the largely invisible, free updates iOS users can apply.
Chitika doesn't outline how it collects its data, but the firm primarily markets mobile ads, limiting its reach in profiling desktop and notebook Mac users compared to its metrics for iOS users running ad-based apps.
In contrast, Net Applications monitors the use of web browsers reported by a wide network of web servers, and its data indicates that Mac OS X Lion has been and continues to steadily grow, having already reached a 30 percent share of all Mac users. That's more than the other variants of Mac OS X older than Snow Leopard combined.
Mac OS X Lion has already achieved a similar share among Mac users as Microsoft's Windows 7 has this year among PC owners, two years after its release.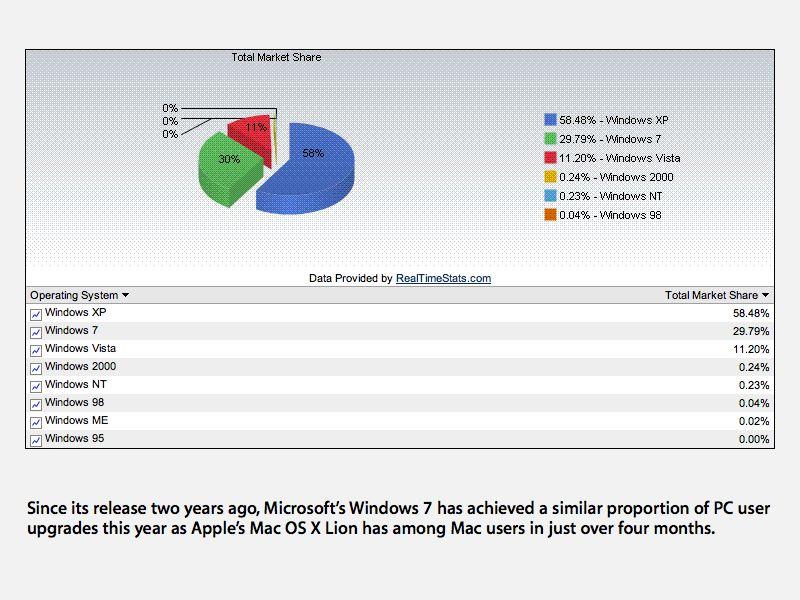 Because all new Macs ship with Lion and can't be downgraded to an earlier version, the record numbers of new Macs sold can only force Lion's share higher. In its last quarter, Apple sold 4.89 million new Macs, greatly outpacing the individual users upgrading to Lion through the Mac App Store.