iPhone 4S to launch in India, world's No. 2 market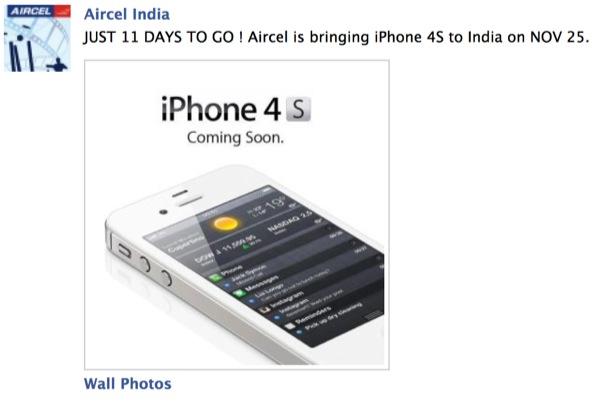 Apple continues its fastest iPhone rollout ever as the iPhone 4S is set to launch in India, the world's second largest mobile market, through two separate carriers by the end of November.
It was reported on Monday that India's Bharti Airtel, the leading telecom in the world's second largest mobile market, has confirmed it will launch the iPhone 4S on the same day as rival iPhone carrier Aircel, according to The Times of India.
The news follows a Saturday announcement posted on Aircel's Facebook page that stated the company would begin selling the device on Nov. 25, ending weeks of speculation as to when the handset would arrive in India, reports The Next Web.
The companies have yet to disclose a definitive price for Apple's newest handset, though the expected cost is between Rs 35,000 and Rs 40,000 ($693 and $792) for the cheapest unlocked 16 GB version. Previously, Aircel and Bharti Airtel both offered discounted call and data plans for the iPhone 4, and are expected to use the same reverse subsidy model for the iPhone 4S.
Bharti Airtel is India's largest mobile and fixed line carrier and is the third largest in-country mobile telecom operator in the world, while Aircel is India's fifth largest GSM provider and serves over 18 regions within the country.