Dividend seen bringing $4B in additional investments to Apple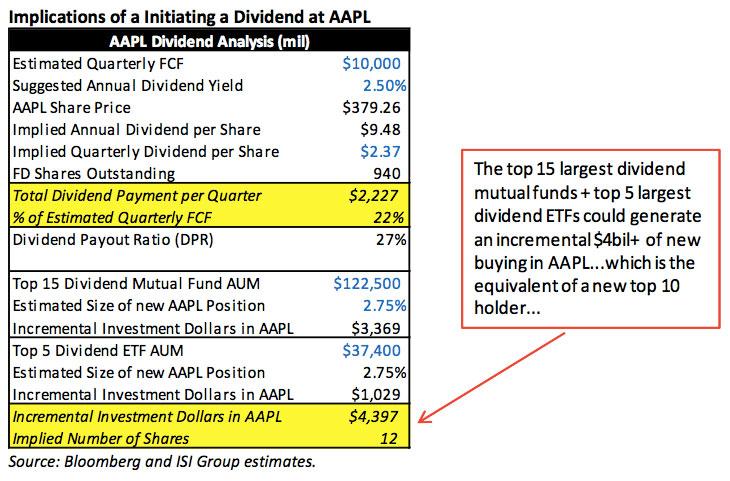 Though Apple has long resisted paying its shareholders a dividend, one new analysis suggests the company could gain an additional $4 billion in investments if it were to do so.
Analyst Brian Marshall with International Strategy & Investment Group said his firm's surveys have indicated most investors do not believe Apple will initiate a dividend policy in 2012. However, he believes now that Tim Cook is in charge of Apple, the CEO will make an effort to optimize his company's capital structure and will, in fact, pay out a dividend.
He believes that Apple could "easily" implement a dividend yield of 250 base points, amounting to about $2.40 per quarter. In Marshall's view, a dividend payout would reduce Apple's free cash flow by between 20 percent and 25 percent.
But he also estimates that a dividend yield would bring in more than $4 billion in incremental investments, which is why Marshall believes Cook will decide to change course for Apple.
Calls for a dividend from Apple are not new. In fact, in September, investment firm Morgan Stanley recommended that the iPhone maker use its massive cash hoard for either dividend payouts or share buybacks.
In October of 2010, Apple co-founder Steve Jobs appeared on his company's quarterly conference call and discussed what he might do with his company's cash pile. When asked by one analyst if he would return some of the money to investors in the form of a dividend, Jobs dismissed that possibility.
"We strongly believe one or more strategic opportunities will come along we're in a unique position to take advantage of," the late Apple CEO said in 2010. "We don't let the cash burn a hole in the pocket or make stupid acquisitions. We'd like to continue to keep our powder dry because we think there are one or more strategic opportunities in the future."
Apple has used its cash to its advantage for strategic investments, such as earlier this year when it paid $2.6 billion for its share of patents sold off by Nortel. Last year Apple also paid about $200 million to buy Siri, and the company's technology now powers the Siri voice recognition feature in the iPhone 4S.
The company has also leveraged its deep pockets to gain an advantage over rivals in the supply chain. By offering up-front payments for components such as flash memory, Apple has been able to block out the competition and secure its own inventory.
Those moves are made possible because Apple has more than $81.6 billion in cash, as of last quarter. With that cash, Apple has prepaid for NAND flash, displays, and other secret components, such as in a $3.9 billion deal the company revealed earlier this year.
Last month in its annual 10-K filing with the U.S. Securities and Exchange Commission, Apple officials revealed they expect their company to increase capital expenditures by 73 percent year over year in fiscal 2012. That would bring its projected expenses to $8 billion, compared with expenses of just $1.2 billion in 2009.