Safari-based iOS shortcuts offer quick access to WiFi toggle, Airplane Mode, more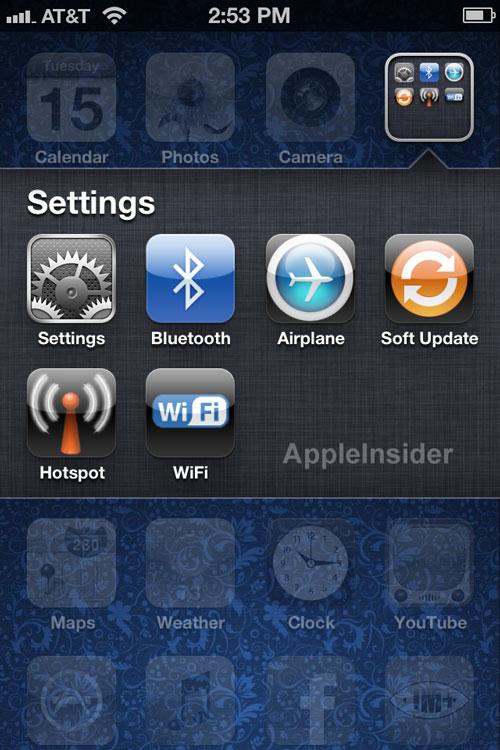 A developer has discovered a way to add quick access to specific controls in the iOS Settings application, such as the ability to turn on or off Bluetooth or activate Airplane Mode, through a Web app launched via a home screen icon.
The tweak, dubbed IconSettings, is available for free from iphoneza.co.za. The Web-based shortcuts do not require that users "jailbreak" their device, a term used to describe hacking the iOS mobile operating system to allow users to run unauthorized software and modifications.
With IconSettings, users can choose which specific aspects of the iOS Settings application they want quick access to. Options include general use features like Bluetooth, Airplane Mode and Personal Hotspot, while highly specific aspects of the Settings application including options for the Keyboard, Date and Time, Accessibility and Software Update are also available.
Users must simply visit the IconSettings website on their iOS device and visit the link that applies to the setting they want to add. Click the "Cancel" dialog, then add a bookmark link to the home screen, and the quick link will appear complete with a custom-built icon graphic.
The functionality, which is only available on iOS 5.0 and up, takes advantage of a feature within the iOS Safari Web browser. Tapping on the bookmarked icon on the homepage actually launches a new page in Safari before immediately opening the appropriate section of the native Settings application.
By adding an Airplane Mode link to the home screen, tapping the icon will immediately place the iOS device in Airplane Mode (no wireless data connections) without the need to launch the Settings application and select the appropriate option.
Unlike with Airplane Mode, a Bluetooth link added to the home screen will not automatically toggle Bluetooth on or off, but it does immediately bring users to the Bluetooth setting option. Previously, users had to select the Settings application, choose General, and then Bluetooth to access this page.
For years, some users have been jailbreaking their iPhone or other iOS devices to gain quick access to features like enabling or disabling Bluetooth, in order to conserve battery life. But with IconSettings, users can access this functionality without going through the jailbreak process, which voids Apple's warranty for iOS devices.
AppleInsider has affiliate partnerships and may earn commission on products purchased through affiliate links. These partnerships do not influence our editorial content.