Apple accuses Amazon of false advertising in ongoing pursuit of 'App Store' trademark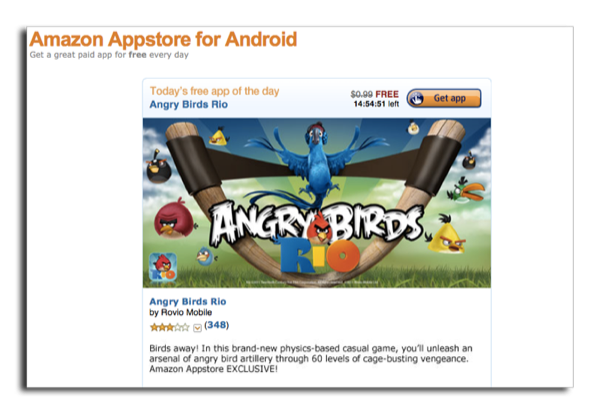 AppleInsider is supported by its audience and may earn commission as an Amazon Associate and affiliate partner on qualifying purchases. These affiliate partnerships do not influence our editorial content.
Apple continues to fight for the "App Store" trademark, accusing Amazon of false advertisement in an amended filing against the company's use of the term in a recent promotion for the Kindle Fire tablet.
Apple filed the revised claim on Wednesday in response to Amazon's use of the term when marketing the Kindle Fire in September, hoping to bolster its position in winning the "App Store" trademark, reports paidContent.org.
The iPhone maker claims that it has the only true App Store and that Amazon's use of the term could lead customers to believe that the companies have affiliated software marketplaces. The filing goes on to say that Amazon's ad was false or misleading, and could have caused confusion for customers.
"For example, consumer of mobile software downloads are likely to be confused as to whether Amazon's mobile software download service is sponsored or approved by Apple or is merely a conduit for Apple's APP STORE service."
Amazon's Kindle Fire web page has been updated since its Sep. debut and no longer includes mention of the Amazon App Store.
Apple originally filed the complaint in March when Amazon used the phrase "Appstore for Android" when promoting its marketplace for software designed to run on Google's smartphone platform. Since then the Internet sales giant has used the term in various advertisements and Amazon related services.
When Apple first launched its iPhone App Store in July 2008, the company applied for ownership of the "App Store" trademark, however the Trademark Office has yet to grant the application. Rivals have complained that the term is generic and should not be owned by any one company, with Microsoft going so far as to file a formal objection in January.
Trademark cases have the potential be taken to court, where an application will be deemed valid based on a five-part distinctiveness scale. "Generic" or "descriptive" terms cannot be trademarked, though "fanciful" names are more likely to garner legal protection.
Apple is no stranger to intellectual property lawsuits, and is currently embroiled in a worldwide patent dispute with Samsung. The Cupertino, Calif. company has won a temporary injunction against the Galaxy Tab 10.1 in Australia, and most recently forced the Korean company to modify and rebrand the device in an attempt to sidestep an outright ban in Germany.