iOS code suggests Apple could bring iChat to iPhones and iPads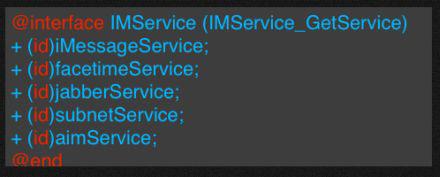 References discovered in the underlying code of Apple's iOS mobile operating system suggest that some cross-platform features of Mac OS X iChat could make their way to the iPhone, iPad and iPod touch.
Though the code discovered by developer John Heaton, and highlighted by TUAW, doesn't specifically mention iChat, it does include strings related to outside services AOL Instant Messenger and Jabber. The iMessage application found in iOS 5 allows text messaging, but does not currently connect to third-party chat services like AIM.
But the iChat software built into Mac OS X does connect to services like AIM, Jabber and others, like Yahoo Messenger. The code references discovered by Heaton suggest that Apple was at one point testing similar functionality in iMessage for iOS 5.
Also interesting is the fact that the "IMService" code in iOS 5 mentions both the iMessage and FaceTime services. Currently, iMessage and FaceTime are separate applications in iOS 5, with the iPhone handing off FaceTime duties to the handset's native "Phone" application, and the iPad and iPod touch featuring a separate application specifically for FaceTime. The code might suggest that FaceTime could eventually become integrated in iMessage.
Even on the Mac, FaceTime and iChat are different applications without integration. And there is currently no support for iMessage in Mac OS X, though there has been evidence that Apple could bring iMessage support to iChat in Mac OS X 10.7 Lion.
iMessage is Apple's new proprietary chat client that debuted with the launch of iOS 5 in October. For iPhone users, it handles text messaging responsibilities, but it also allows for free messaging between iPhone users, as well as iPad and iPod touch users, in a manner similar to Research in Motion's BlackBerry Messenger.
The iMessage software is based on the same push technology that Apple developed for use in iOS application notifications, push e-mail and contacts.
Like iMessage, FaceTime originally debuted on the iPhone and was not available on Macs. But earlier this year, Apple released a dedicated FaceTime application on the Mac App Store for 99 cents.