Apple rumored to switch back to Nvidia GPUs for 2012 MacBook models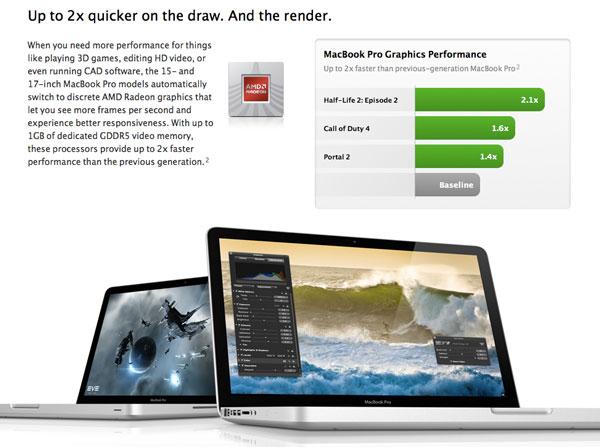 Apple's switch to AMD graphics across its entire product line could be short-lived, as a new rumor claims that next-generation MacBook models will once again feature Nvidia graphics processors.
Nvidia's return to Apple's Mac lineup is expected to begin next spring, when new hardware featuring Intel's next-generation Ivy Bridge processors is anticipated, according to SemiAccurate. Rumors have suggested that Apple's new MacBook Pro models, arriving in 2012, will feature a redesigned chassis that will take some design cues from the popular thin-and-light MacBook Air lineup.
The last MacBook Pro models to feature Nvidia graphics arrived in 2010 alongside a new proprietary graphics switching technology developed by Apple. But the higher end 13- and 15-inch MacBook Pros launched early this year completed the switch to AMD graphics, while the entry-level 13-inch model relies on integrated Intel graphics.
In mid-2009, rumors began to crop up that Nvidia and Apple were at odds with each other, though there was no hard evidence to support a rift. But over the next few years, Apple gradually began to feature only ATI graphics across its entire Mac lineup, including desktop machines.
The same site to report the AMD GPU rumor also claimed last week that Apple had secretly built an AMD-powered MacBook Air model last spring, but scrapped the device at the last minute because of production issues. It said Apple had originally hoped to release a thin-and-light notebook powered by AMD's Llano processor.
SemiAccurate also claimed in May that Apple plans to transition its future portable Macs to ARM processors, away from Intel CPUs. Low-cost, low-power ARM processors are currently found in Apple's iPhone and iPad devices, but the report claimed Apple hopes to have ARM specifications also power its Macs by the end of 2012 or by early 2013, when 64-bit variations are expected to become available.