New e-book recounts Steve Jobs e-mails to Apple customers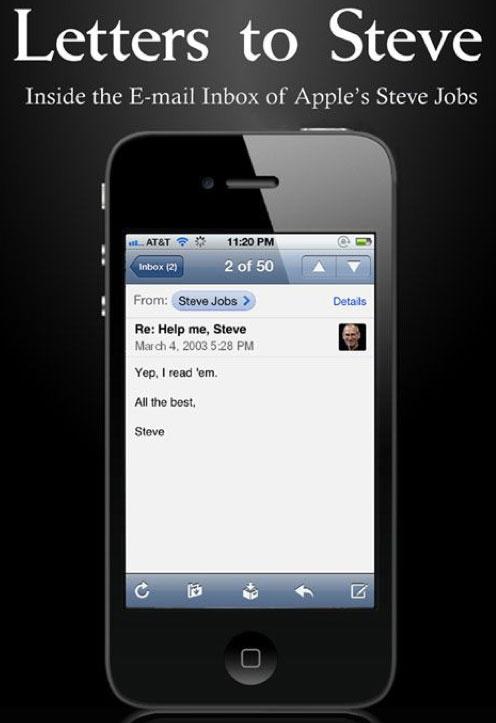 Long known for engaging in personal correspondence with customers, Apple co-founder Steve Jobs and his concise e-mails are the subject of a new e-book.
"Letters to Steve: Inside the E-mail Inbox of Apple's Steve Jobs" is the first book by author Mark Milian, who covers consumer technology for CNN. He was previously a staff writer for the Los Angeles Times. The title is available for $2.99 on the Amazon Kindle platform.
For the 67-page book, Milian reviewed more than 100 e-mails allegedly sent by Jobs, including some never-before-published notes that were shared exclusively for the new title. It also features interviews with some of the customers and fans that Jobs communicated with.
"Over the years, people discovered the e-mail address of Jobs and took to regularly sending him messages," the official synopsis reads. "That he often responded was as unusual as his leadership style and his processes for crafting hit products."
Among the conversations included are exchanges between Jobs and Brian Lam, former editor of Gizmodo. While the two had a friendly relationship at first, with Jobs even providing his thoughts on an early redesign of the website, the relationship quickly turned sour when the publication obtained a prototype of the iPhone 4 before it was announced.
The book even features details from an e-mail Jobs sent that was provided to AppleInsider in March of 2010. Jobs provided one customer details on what retail locations would sell the first-generation iPad at launch.
When he was in charge of Apple, Jobs's e-mails were an occasional source of news from the typically secretive company. For example, one note sent by Jobs a year ago revealed that "hardly anyone" was buying Apple's Xserve line of rackmounted servers, which prompted the company to discontinue the hardware.
Though Jobs died in October after a long bout with cancer, his tradition of responding to e-mails has been carried on thus far by Chief Executive Tim Cook. The book includes a few exchanges Cook has had with customers since he took over Apple in August.