Google steps up competition with iTunes, adds Disney movies to YouTube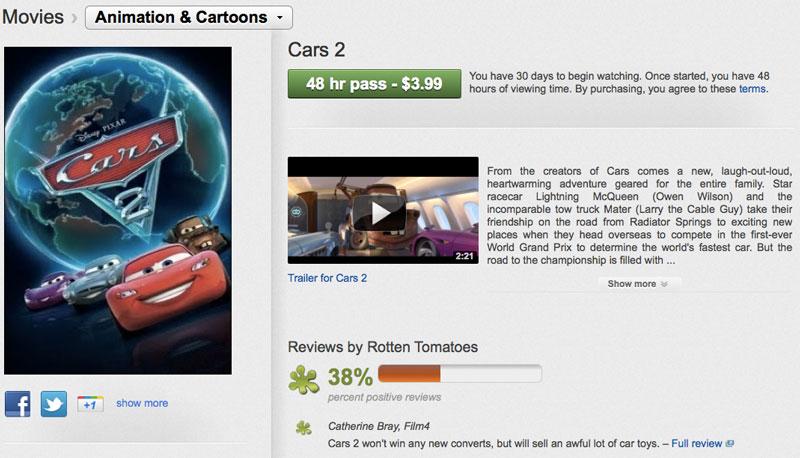 AppleInsider is supported by its audience and may earn commission as an Amazon Associate and affiliate partner on qualifying purchases. These affiliate partnerships do not influence our editorial content.
Stepping up its competition against Apple's iTunes, Google on Wednesday added hundreds of movies from Disney, Pixar and DreamWorks to rent on YouTube, including the Cars and Pirates of the Caribbean franchises.
Disney's streaming films are now available to rent at youtube.com/movies, where thousands of titles are already available from other studios. Some of those movies are available to watch for free, like Step Brothers, and others are as little as 99 cents, such as Harry Potter and the Deathly Hallows Part 2. Some 2011 releases like Bad Teacher and Attack the Block can be watched for $3.99.
Once a customer pays to rent an HD film, YouTube grants them 30 days to begin watching the movie. When the movie has been started, users have either 24 or 48 hours of viewing time.
The deal struck by Google makes it more competitive with Apple's iTunes, a service that already offers Disney movies for purchase or rent. A YouTube rental of Cars 2 is $3.99 for a 48-hour pass, while iTunes users can rent the standard-definition version for $3.99 ($14.99 to buy), or high-definition for $4.99 ($19.99 purchase).
YouTube has promised that more "Disney classics and new releases" will appear on the site in the future. Films will also feature YouTube Movie Extras, with behind-the-scenes clips, interviews and more.
The YouTube movie rental service was launched in May with blockbuster titles such as Inception and The King's Speech. But the addition of Disney, a longtime Apple partner and a company of which Steve Jobs was the single largest shareholder, is a major coup for the fledgling service.
The deal is a change from Apple, when Disney, along with Fox and Paramount, passed on a deal with Google over concerns that the search giant had "not taken adequate steps to stop supporting piracy sites."
iTunes movie rentals have been available from Apple since 2008. In 2010, the company held 64.5 percent of the Video on Demand market, according to research group IHS.