HP's Chairman using MacBook Air, may detail webOS plans next week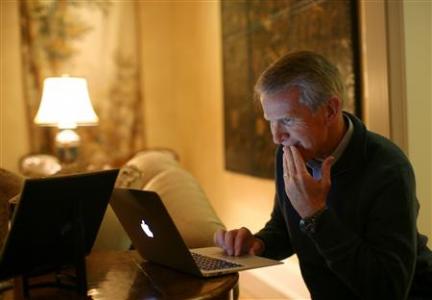 HP is expected to finally announce a future path for its webOS platform next week, on the heels of an embarrassing PR photo portraying chairman Ray Lane using a MacBook Air at home.
The photo, included in a report by Reuters profiling Lane a Silicon Valley veteran putting his reputation on the line to get the company "back on track," depicted HP's executive chairman fixated on the screen of a light thin laptop brandishing Apple's iconic illuminated logo.
The photo (below) was captioned "Ray Lane works on his computer at his home in Atherton, California November 11, 2011." The photo also depicts a second laptop that appears to be a generic PC.
Last year, Lane became chairman of HP as his friend Leo Apotheker was brought in replace Mark Hurd, who had been dismissed as chief executive. Lane approved Apotheker's decisions, including the $11 acquisition of software firm Autonomy and plans to spin off the company's PC group and kill its webOS hardware, including the TouchPad tablet that had just gone on sale.
After Apotheker's strategy was roundly recognized to be disastrous, Lane and the HP board scrambled to do some damage control, removing Apotheker as chief executive and then appointing board member Meg Whitman as his replacement, despite, as Reuters observed, "her lack of experience in enterprise computing."
The report didn't spell out the irony of Lane using a MacBook Air, particularly notable given that HP just released new MacBook Air-like models under its Envy brand. As executive chairman of HP, Lane would have little reason to be using Apple's products for any reason other than preferring to use them, as he has little role in shaping the actual products HP makes or critically examining those of competitor's.
Meanwhile, a source within HP has noted to AppleInsider that the company is rumored to finally make a definitive comment on the future of webOS either on November 28 or December 1, although, the source notes, "I don't think anyone expects anything good."
While HP's new chief executive Whitman has rolled back Apotheker's idea of spinning off the Personal System Group that builds HP's PCs, the company hasn't provided any clear direction for the future prospects of webOS, the software platform HP acquired from Palm for $1.2 billion before Hurd was replaced by Apotheker.
A decision was expected to be announced at an all hands meeting in October never materialized.
Instead, at a subsequent public announcement HP's leadership affirmed its decision to retain the PSG but left the future of webOS up in the air. Whitman even announced that HP would be releasing tablets based on Windows 8, following the company's failed Slate PC last year running Windows 7.
At the same time, NPD just announced that HP's webOS tablet shipments outnumbered any alternative outside of Apple, making up 17 percent of the 1.2 million non-iPad tablets sold in the first ten months of 2011.
That could be seen as positive for webOS, or simply more proof that there is no real market for tablet devices outside of the iPad, just as there were very limited prospects for iPod-like music players outside of Apple's iPod lineup throughout the last decade.
A report by Venture Beat indicates that HP is trying to sell off its Palm assets while "demanding that potential buyers license webOS back to it on the cheap for use in printers."
Both Intel and Qualcomm are rumored to be interested in Palm's patent portfolio, while both Amazon and RIM have been thrown about in wild speculation suggesting that those hopeful tablet makers could somehow use webOS to turn around their own existing tablet platforms. Amazon's Fire is based on an old version of Android, while RIM has developed its own mobile environment on top of QNX.