75% of Apple stores sold out of iPhone 4S on Black Friday, iPad sales up 68%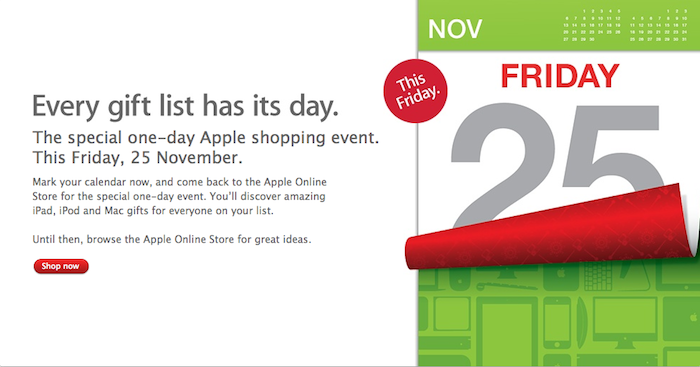 AppleInsider may earn an affiliate commission on purchases made through links on our site.
Apple's Black Friday sales were a resounding success according to two separate accounts, which revealed that most of the company's retail stores sold out of the iPhone 4S on the biggest shopping day of the year.
Analyst Chris Whitmore with Deutsche Bank and his team of analysts checked with more than 200 stores on Black Friday to assess demand for Apple products, including the iPhone, iPad and Mac lineup. His checks included about 100 Apple retail stores and more than 100 AT&T, Verizon, Sprint, Best Buy, Walmart and Target stores.
He found that about 75 percent of Apple retail stores polled were completely sold out of the iPhone 4S by the end of the day on Black Friday, which is the day after Thanksgiving in the U.S. But Apple had restocked many of those stores by Saturday, as follow-up calls found that just 30 percent of Apple's stores remained sold out of the iPhone 4S.
At AT&T stores, Whitmore found that about 50 percent were sold out over the weekend as the carrier struggled to meet heavy demand. Stock-outs also occurred nationwide at Verizon, while Sprint was said to have had adequate inventory to keep up with demand.
Separately, Gene Munster with Piper Jaffray also polled Apple's retail stores on Black Friday, and discovered that iPad sales per hour were 68 percent higher than they were a year ago. He said the numbers support his projection of 13.5 million iPad units to be sold in Apple's December quarter.
Stores tracked by Munster sold an average of 14.8 iPads per hour, which was up from the 8.8 iPads sold per hour at Apple's retail stores on Black Friday in 2010.
Munster also tracked Mac sales at an average of 10.1 per hour, up 23 percent from Black Friday 2010. He also remains confident in a projected 5.2 million Mac sales in the holiday quarter.
Whitmore also found strong iPad and Mac sales in his own surveys, and in particular noted that consumers showed strong support for Apple's thin-and-light MacBook Air. He said the entry-level 11.6-inch MacBook Air, aided by a 10 percent discount on Black Friday, was the most popular option in the MacBook Air lineup lineup.
As for the iPad, Whitmore said retail employees indicated that consumers tend to be gravitating toward higher-capacity models. For example, he received a few comments that the most popular model is the 32GB version, which has twice the storage of the entry-level 16GB iPad.