Apple negotiated 'unique' bargain for Grand Central store lease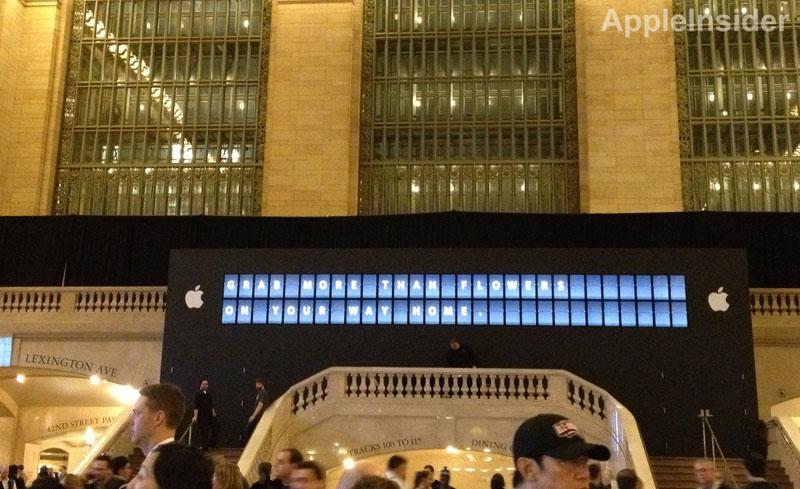 Apple is said to be paying less per square foot for its Grand Central Station store, and will not share any of its sales with New York's Metropolitan Transportation Authority, as part of a "unique" and advantageous deal for the company.
The terms of the deal were disclosed on Wednesday by the New York Post, which revealed that Apple is paying $60 per square foot for the property. That's said to be well below what other tenants are paying, such as a Shake Shack restaurant that pays more than $200 per square foot.
"That's a sign that Apple drove a hard bargain with the MTA — Despite the fact that the public agency's budget squeezes are pushing fares up for subway straphangers and suburban commuters across the region," the report said.
A spokesman for the MTA noted that the authority will receive more than quadruple what it was paid for the same space previously. In addition, no companies other than Apple responded to the authority's public request for proposal.
Another unique aspect of the deal is the fact that Apple is not sacrificing a percentage share of what it sells at the new storefront to the MTA. The authority said that it agreed to allow Apple to keep all of its sales because the new store will "generate significant new traffic" for the 100 other retail tenants of Grand Central.
Apple began teasing a week ago that its Grand Central store will open "soon," with a new digital sign posted in front of the location. The Post previously reported that the store is expected to be unveiled with a media event on Dec. 9, while the public will be able to shop there on Saturday, Dec. 10.

Thanks to AppleInsider reader "P" for the photo.
The opening will give Apple a few weeks to sell products to customers who travel through the popular destination ahead of Christmas. At 23,000 square feet, it will be one of Apple's largest retail stores in the world.
Apple reached a 10-year deal with the MTA in July for the "marquee space." Apple opted to buy out the remaining eight years on the lease of the previous tenant, Charlie Palmer's Metrazur restaurant.