Settings shortcuts disabled by Apple in iOS 5.1 beta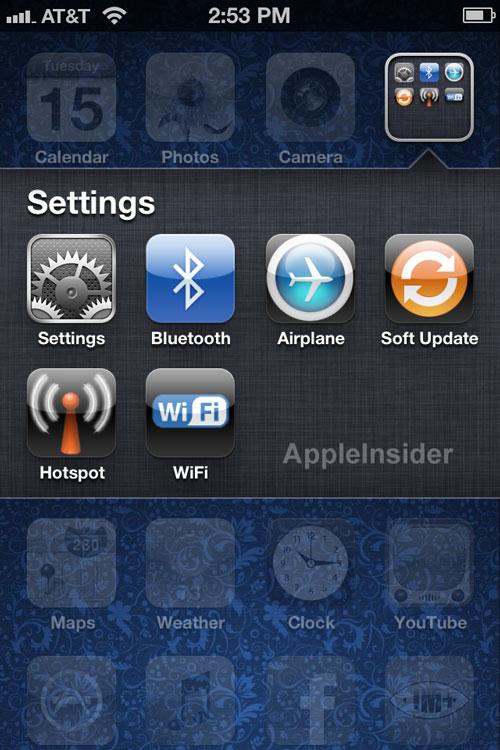 AppleInsider is supported by its audience and may earn commission as an Amazon Associate and affiliate partner on qualifying purchases. These affiliate partnerships do not influence our editorial content.
A tweak that allowed users to quickly access specific settings in iOS — such as toggling Wi-Fi, Airplane Mode and Bluetooth on or off — has been disabled with the first beta of iOS 5.1.
Earlier this month, the Web-based shortcuts, which allow users to make custom icons for specific settings, gained popularity for allowing users to quickly access features like Mobile Hotspot or Software Update. But as first revealed by iSpazio.net (via Google Translate), the newly released iOS 5.1 beta puts a stop to this tweak.
The functionality became available with the release of iOS 5, via a feature in the iOS Safari Web browser. Users could add a series of Web links to their home screen, and tapping on a bookmarked icon would automatically take users to the appropriate section of the native Settings application on an iPhone or iPad.
The tweak is useful because it gives users quick access to settings like turning Bluetooth on or off. Previously, simply accessing the Bluetooth controls required users to tap the Settings application, then General, then Bluetooth.
The Settings icons can be even more convenient for enabling Airplane Mode, which turns off all wireless communications on the device. While a Bluetooth shortcut requires users to toggle Bluetooth on or off by themselves, tapping an Airplane icon automatically enables Airplane Mode without any extra steps.
The discovery of the tweak led to a number of free tools online that allowed users to have quick access to their settings, including IconSettings and brdrck.me/settings. Both tweaks remain available to users who are not running the iOS 5.1 beta.
Previously, users who wanted to have such tweaks on their iPhone needed to "jailbreak" their device to run unauthorized code. But jailbreaking an iPhone is a warranty-voiding process that is not recommended by Apple for potential security concerns.
The first beta of iOS 5.1 was released to developers on Monday, and includes enhanced dictation support for devices beyond the new iPhone 4S. While basic speech recognition features appear to be coming to older iPhones, there is no indication that Siri, Apple's voice-controlled personal assistant application on the iPhone 4S, is coming to previous generation handsets.
The new iOS 5.1 beta also contains references in its code to a next-generation iPhone, known as "iPhone5,1," as well as third-generation iPad models "iPad3,2" and "iPad3,3." It also includes references to an unreleased iPad 2 model, labeled "iPad2,4."