Apple could pay $1.5B to Chinese company after iPad trademark lawsuit rejected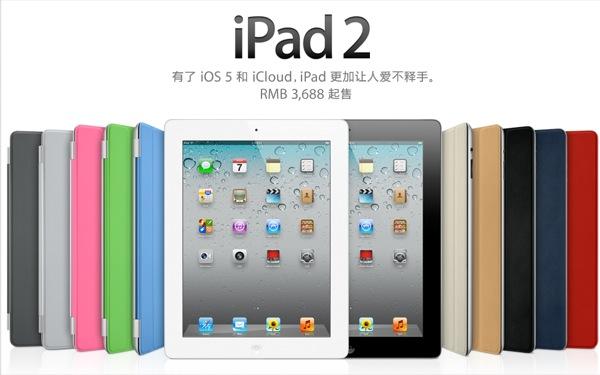 A Chinese court rejected Apple's lawsuit accusing Proview Technology of illegally using the iPad name, allowing a counter suit as the Shenzhen company is said to have already registered the trademark in China.
Chinese newspaper The Southern Metropolis Daily reported on Tuesday that because Proview legally trademarked the iPad name for products in a number of countries including China in 2000, Apple's lawsuit was rejected and the tech giant is now open to a previous $1.5B infringement suit, according to Reuters.
Apple introduced its tablet in Jan., 2010, with sales starting in April, just weeks after the company reportedly acquired the trademark for the iPad name from Fujitsu. The Japanese electronics maker owned the iPad moniker from 2003, using it for Windows CE-based handheld devices.
In 2006, Proview Electronics (Taiwan) agreed to sell the iPad trademark to a company called IP Application Development for $55,000, without realizing that the company was connected to Apple. Proview chairman Yang Rongshan claimed the deal did not include the Chinese rights to the trademark, though Apple argued otherwise.
With Apple's suit rejected, Proview can now proceed with its own legal action regarding the trademark, which was first reported in October. The Shenzhen company is asking for 10 billion yuan (approximately $1.5 billion) in compensation from Apple for copyright infringement.
The ruling by Intermediate People's Court of Shenzhen is yet another roadblock in Apple's attempts to gain a foothold in what some consider to be the company's most important emerging market. Recent issues include fake Apple retail stores in western China and supply chain pollution concerns.
The latest news comes just weeks before Apple is said to be releasing the iPhone 4S in the country, which is expected to launch on partner carrier China Unicom within the month. Recently, the iPhone surpassed Nokia as the leading smartphone brand in the country, riding on booming 3G adoption rates and overall brand popularity.
Apple's Chinese iPad 2 webpage | Source: Apple
In October's quarter four investor conference call, Apple CEO Tim Cook called China "an area of enormous opportunity," and noted he has never seen a country with as many people rising into the middle class aspiring to buy products his company makes.
The Mac maker is seen as the most desirable PC brand in China, with the iPad leading the region's tablet market with a 65 percent share.