iTunes Match viewed as break-even but important business for Apple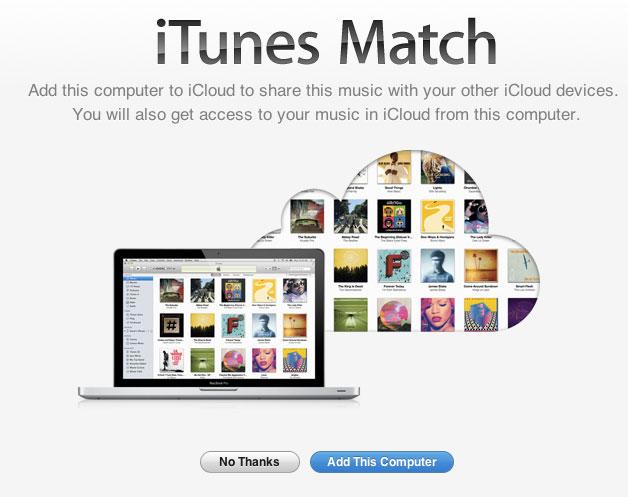 Though Apple's recently launched iTunes Match service isn't expected to be hugely profitable for the company, it is viewed as an important service that will further tie customers into the iTunes ecosystem and Apple's hardware.
Analyst Gene Munster with Piper Jaffray said on Thursday he believes the profitability of iTunes Match is similar to the iTunes Store, where Apple operates the business just above break-even. He thinks most of the $25-per-year subscription fee likely goes to music labels in the form of royalties, while the rest covers Apple's storage and delivery costs.
iTunes Match is currently available only to customers in the U.S., and Munster estimates there are about 135 million active iTunes users in America. If 1 percent of U.S. users were to buy iTunes Match for $25 per year, it would generate $33.8 million annually, while an an attach rate of 5 percent would amount to $169 million per year.
However, Munster said the revenue and profitability of iTunes Match are "immaterial," as the service won't contribute much to Apple's bottom line. That's similar to both the iTunes Store and the App Store, where the services are meant to support Apple's hardware rather than generate huge profits for the company.
Munster did raise the question of whether iTunes Match, which allows users to access music not purchased from the iTunes Store on a number of devices, would discourage users from buying higher-capacity devices. Hardware like the high-end 64GB iPhone carries a higher profit margin for Apple.
He noted that a survey of early adopters at the iPhone 4S launch found that 19 percent of buyers bought the 64GB model, and 32 percent bought the 32GB capacity.
"While we expect these numbers to come down from our survey of early adopters, the fact that 50% of buyers opted to pay up for more storage suggests that the advent of cloud-based access to content is not hampering sales of higher margin, higher capacity devices," Munster wrote.
"And while this mix may change, we still see benefits of higher capacity devices given the speed and convenience of local content, and limited access to the internet for some users (air travelers, for example)."
One estimate released in June found that Apple's iTunes Store and App Store cost the company about $1.3 billion a year to operate. Apple has maintained for years that its online services operate just above break-even, but serve to attract customers to its profitable hardware and accompanying ecosystem.
While iTunes Match will sync a user's library with songs available in iTunes and will automatically upload any tracks that are not found in Apple's online store, Apple does not yet have a way for users to upload videos they shoot on an iPhone or iPad to iCloud. Munster noted that video syncing and the ability to re-download movies purchased through iTunes remain two noticeable omissions from iCloud.
Munster sees that potentially changing in late 2012, when he expects Apple will launch its own full-fledged television set. As part of its TV offering, he sees Apple offering various bundles for live TV channels, potentially in the form of applications, along with access to previously aired shows on demand.
"The details of a subscription video service are very unclear, but we believe it would leverage Apple's iCloud infrastructure for web-based delivery of content to the television, or other iOS devices," he wrote. "And it would also likely start out small (perhaps offering just Disney/ABC content) while other content providers weigh the pros and cons of an Apple video service."