Apple TV to take 32% of "Connected TV Player" market this year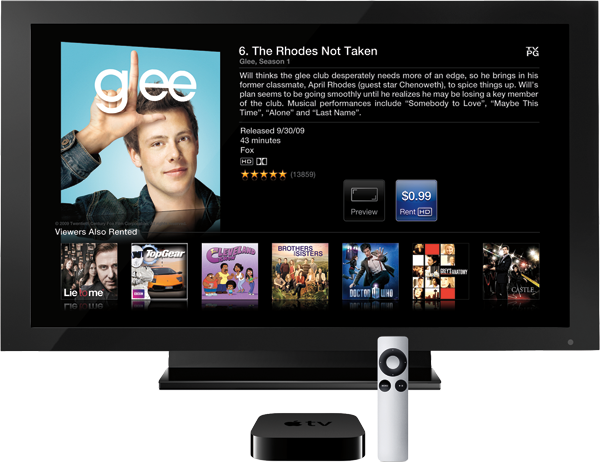 AppleInsider may earn an affiliate commission on purchases made through links on our site.
While consistently branded as being a "hobby" for Apple, sales of its $99 Apple TV set top box had made it the most popular device in the category, predicted to sell nearly 4 million of the the nearly 12 million TV boxes in the market.
A report by Strategy Analytics, Apple is the leading set top TV box vendor, ahead of dedicated TV box systems from Boxee, Iomega and Roku, TV box products by hard drive vendors Western Digital and Seagate, and Android-based Google TV licensees Sony and Logitech.
"Apple is leading this nascent market, which it still considers a 'hobby'." says Jia Wu, Strategy Analytics' Senior Analyst of the Connected Home Devices (CHD) service.
The marketing firm noted that only 8 percent of US households currently own a "connected TV" player, but of that population, 32 percent have chosen Apple's model. Additionally, among connected TV users, more Apple users were actually paying for TV and movies. The firm found that 30 percent of Apple TV owners paid to rent movies or TV shows, compared to just 20 percent of users of other devices.
"As Apple prepares for its expected launch of smart TVs in 2012, rival platforms must accelerate their development plans to keep Apple from running away with the connected TV business, as it has done in smartphones and digital music," the analyst stated, reiterating speculation that Apple is poised to enter the HDTV market, rather than continuing to build a low cost, small external iOS device that can work with any TV set.
At the same time, the firm acknowledged that Apple, along with Roku, has found success in the difficult market by offering a TV device at a much lower price point that has "made them more affordable and compelling to consumers."
Apple slashed the price of Apple TV from the original $229 entry level device of the first generation unit to just $99 by focusing on streaming content from cloud services (including iTunes own and Netflix) and from users' own PC content libraries, rather than hard drive playback of locally stored content on the device itself.
Apple has also differentiated Apple TV by introducing AirPlay as a feature from both iTunes equipped Macs and PCs, as well as mobile iOS devices such as the iPhone, iPod touch and iPad. Without AirPlay, other smartphones and tablets require a much less convenient external HDMI cable connection, if they support external video at all.
Many popular Android smartphones lack any support for video output, and low cost tablets such as the Amazon Kindle Fire and Barnes & Noble Nook Color similarly lack the capability for wired or wireless video output to an HDTV. Standard Android devices can stream to Apple TV using third party apps, such as doubleTwist and its AirSync feature.
In addition to dedicated TV box devices, Apple TV also competes against game consoles with cloud services and media stores, including Microsoft's very popular Xbox 360 and Sony's rival PlayStation 3. Those devices weren't profiled in the report as "connected TV" devices, despite their large installed base of users. While Apple TV and its AirPlay mirroring capabilities with iPad 2 and iPhone 4S have revealed new potential for iOS games that take over the living room, Apple hasn't pushed the device as a gaming system in the same way that it has the portable iPod touch.
Apple's TV box, introduced alongside the original iPhone back in 2007, was also challenged by the Android-powered Google TV initiative launched in the summer of 2010. However, Google TV has failed miserably over the past year and a half.