Netflix 2.0 app refreshes iPad user interface, still lacks AirPlay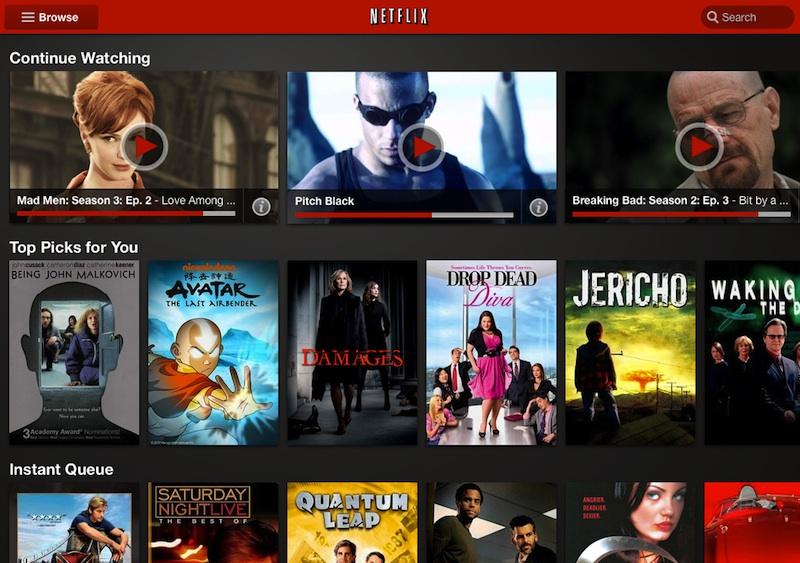 Netflix has released its revamped user interface for iPhone and iPad after first debuting the new look for Android tablets.
The new Netflix 2.0 app for iOS devices requires iOS 5, and supports client playback for subscribers "in all regions," including the US, Latin America and Canada.
In addition to bringing a new tablet user interface to iPad, the new version also fixes some "stability issues."
Netflix initially released its newly revamped user interface for Android tablets one month ago, which made its interface for tablets similar to its latest designs for set top boxes.
The Android release was aimed at debuting alongside the Amazon Kindle Fire and Barnes & Noble Nook Color, as well as "all Android tablets." Netflix promised an iPad version would follow "in the coming weeks."
The new user interface design "is much more immersive and provides greater focus on the growing number of titles in the Netflix catalog. In fact, the new interface displays twice as many movies and TV shows as before, enabling you to discover even more titles you'll love," the company stated at its original announcement.
App of all platforms, master of none
Netflix for iPhone continues to use a non-standard development build process that leaves it less responsive and accurate than truly native iOS apps, a quality issue Apple initially sought to avoid in the App Store by banning middleware development tools.
Netflix has sought to decrease its development efforts by delivering middle of the road apps that can work on more platforms, rather than custom crafting apps to specific platforms. The Netflix web app is particularly lackluster.
The new Netflix 2.0 for iOS still doesn't include support for AirPlay, Apple's wireless video distribution technology for streaming content from iOS devices to an Apple TV equipped HTDV, a feature that is unique to iOS. Native iOS apps essentially get AirPlay functionality for free.