Samsung newspaper ad hypes Galaxy Tab as 'tablet Apple tried to stop'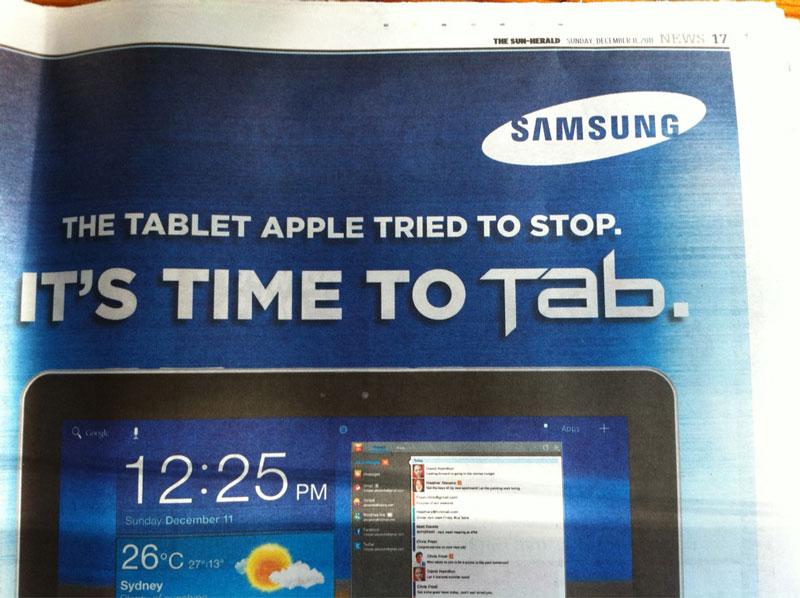 AppleInsider is supported by its audience and may earn commission as an Amazon Associate and affiliate partner on qualifying purchases. These affiliate partnerships do not influence our editorial content.
Samsung officials have credited Apple's lawsuits for attracting attention to its Galaxy Tab lineup, while a new advertisement is portraying the device as "the tablet Apple tried to stop."
The head of Samsung Australia's mobile division told The Sydney Morning Herald this week that Apple's lawsuits attempting to block the sale of the Galaxy Tab 10.1 have made the product a "household name." The recently overturned injunction against the touchscreen tablet will officially end this Friday, when the Galaxy Tab 10.1 goes on sale in Australia.
"At the end of the day the media awareness certainly made the Galaxy Tab 10.1 a household name compared to probably what it would've been based on the investment that we would've put into it from a marketing perspective," said Typer McGee, Samsung Australia vice president of telecommunications.
Samsung has even gone a step further in attempt to turn Apple's legal action against it, taking out an advertisement in The Sun-Herald captured by Twitter User Martin Aungle (via Engadget). The ad boasts that the Galaxy Tab is "the tablet Apple tried to stop," adding the slogan: "It's time to Tab."
It isn't the first time Samsung has attempted to call out Apple in an advertisement. Last month, the company promoted its new Samsung Galaxy S II smartphone by mocking customers who wait in line for Apple's new iPhone models.
To overcome another injunction barring sales of the Galaxy Tab 10.1 in Germany, Samsung redesigned the device to bypass claims of patent infringement by Apple. The new model, known as the Galaxy Tab 10.1N, attempts to avoid design-related intellectual property owned by Apple.
As for the Galaxy Tab 10.1 that will be released in Australia on Friday, McGee said the device has not been changed for the worse as a result of Apple's patent infringement claims. "If you look at the specs of the device, they're identical to the global device that's available out there," he said.
Apple made the first attack in the courtroom against Samsung in April, with a lawsuit accusing the company of copying the look and feel of the iPhone and iPad. That sparked a worldwide legal battle in which both companies have accused the other of patent infringement.