Apple's legal victory over HTC not expected to have a major effect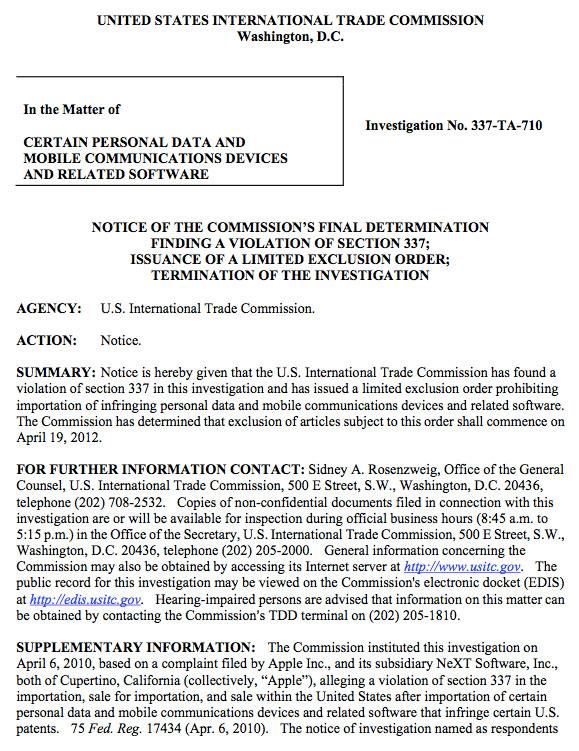 AppleInsider is supported by its audience and may earn commission as an Amazon Associate and affiliate partner on qualifying purchases. These affiliate partnerships do not influence our editorial content.
Though the International Trade Commission has placed an injunction against HTC Android phones that infringe on Apple's intellectual property, the ruling is not expected to have a major effect on either HTC or Apple.
The ITC sided with Apple on Monday and placed an import ban on infringing HTC Android phones beginning on April 19, 2012. The ruling was based on Apple's patented invention for data detectors, which allow an operating system to recognize formatted data, like a phone number or e-mail address, within an unstructured document.
On Apple's iPhone and iPad, the invention allows users to see e-mail addresses and phone numbers as a hyperlink. Those links can be tapped to conduct a specific related action, like placing a phone call or composing an e-mail.
HTC has already responded on the ruling to the Taiwan Stock Exchange, and revealed that it will alter its designs to avoid infringing on Apple's patent. That's expected to allow HTC to avoid the ban set to take place in April.
Analyst Mike Abramsky with RBC Capital Markets said the ITC's decision on Monday was both a win and a loss for Apple. While HTC was found in violation of the data detector patent, which is U.S. Patent No. 5,946,647, HTC was not found to be in violation of the more encompassing U.S. Patent No. 6,343,263, entitled "Real-Time Signal Processing System for Serially Transmitted Data."
"While elimination of this feature slightly widens iPhone's differentiation vs. HTC's Android smartphones, it is a relatively small prize for Apple and a small dent against Android in the grand scheme of the smartphone patent wars," Abramsky said. "The ruling by itself may be disappointing to some investors hoping for a broader patent infringement ruling against Android."
Similarly, Brian Marshall with ISI Group said while the ruling could lead to a stronger position for Apple against other Android vendors, he doesn't expect the ITC decision to have an immediate impact on either Apple or HTC.
"We expect this ITC ruling will be appealed and won't be material to AAPL or HTC shipments in the U.S. through (the first half of 2012)," Marshall wrote in a note to investors, "but could lead to positive share shifts for AAPL over the immediate term should a ban take effect."
And citing industry sources in Taiwan, DigiTimes reported on Tuesday that the ITC ruling will have a "limited impact" on HTC, while the scope of the patent violation is "less severe than expected."
"It will not be difficult for HTC to come out with alternative designs to minimize the impact and risks before the ban takes place, the sources claimed," the report said. "Additionally, HTC devices including the HTC nexus One, Touch Pro, Diamond, Tilt II, Dream, myTouch, Hero and Droid Eris, of which Apple has previously accused of violating its patents, have almost run out of their product life cycles, the sources indicated."