Microsoft announces 2012 CES will be its last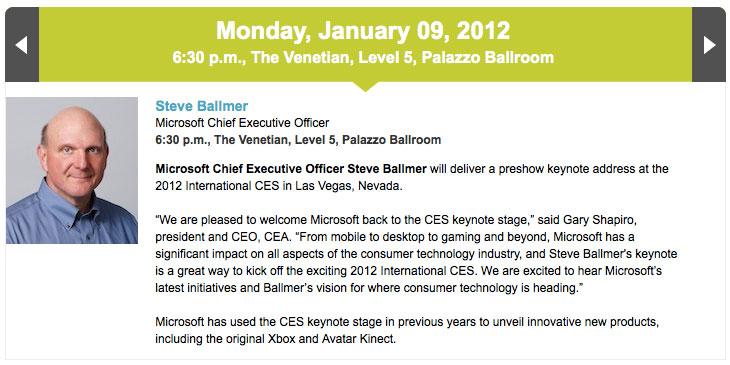 AppleInsider is supported by its audience and may earn commission as an Amazon Associate and affiliate partner on qualifying purchases. These affiliate partnerships do not influence our editorial content.
Microsoft announced on Wednesday that the 2012 Consumer Electronics Show, at which its CEO Steve Ballmer will give the keynote address, will be the last show the company attends.
In its announcement, Microsoft said that the way the company must communicate with its customers has changed. After consideration, Microsoft officials decided that this January's CES will mark Microsoft's last keynote presentation and booth.
"We'll continue to participate in CES as a great place to connect with partners and customers across the PC, phone and entertainment industries, but we won't have a keynote or booth after this year because our product news milestones generally don't align with the show's January timing," said Frank X. Shaw, corporate vice president of corporate communications at Microsoft.
The decision comes three years after Apple decided the 2009 Macworld Expo would be its last. Like CES, Macworld was, at the time, held in early January, though next year's 2012 Macworld|iWorld Expo will kick off on Jan. 26, a few weeks after CES occurs from Jan. 10 through 13.
In 2009, Apple said that trade shows had become "a very minor part" of how the company reaches its customers. Apple now introduces its products with its own media events, free of trade shows that are scheduled well in advance.
Microsoft said Wednesday that it will hold its own events in the future to announce products, while it will also reach out to customers through social networking sites like Facebook and Twitter. The company also plans to reach consumers through its website and retail stores.
"Microsoft has enjoyed a close to 20-year working relationship with the Consumer Electronics Association — and we look forward to working with CEA for many years to come," Shaw said.
Ballmer will kick off this year's CES with a keynote presentation the evening of Jan. 9. The Microsoft CEO also delivered the keynote address at last year's event, in which he highlighted Windows Phone 7 and demoed Windows running on ARM's system-on-a-chip architecture.