'Prototype' Apple Store to call on a decade of design knowledge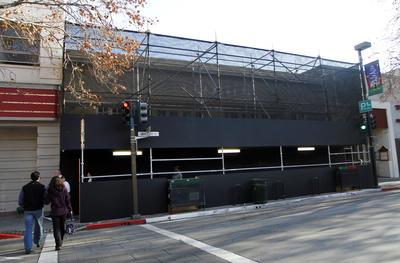 Construction of what is being called a "prototype" Apple Store is just days from breaking ground in Palo Alto, and is planned to feature an open-space architecture that draws on the company's 10 years of iconic retail space design.
Palo Alto, Calif. city officials said on Thursday that work is set to begin "any day now" on the $3.15 million project, which permit filings describe as a "new prototype" Apple Store, reports local newspaper Mercury News.
Architectural firm Bohlin Cywinski Jackson is the project applicant for the two-story structure that will be located approximately one block away from Apple's existing downtown Palo Alto store, which is expected to close once the new space is completed.
"Our Palo Alto store was one of our first retail stores when we opened it nearly a decade ago and it's been incredibly popular," Apple spokesperson Amy Bessette said. "We are planning a beautiful new store just a few steps away, building on everything we've learned from our customers in Palo Alto and around the world."
Plans submitted to the city for the new Palo Alto location call for a 15,030 sq. ft. store that features a glass roof and facade that allows natural light to fill the open retail space, and offer passers-by an unobstructed view of the store's interior. A basement and rear mezzanine will serve as office and storage space.
"It's a very unique building," said Palo Alto planning manager Steven Turner. "The retail space within the building is very visible to pedestrians who are walking past."

Site of 'new prototype' Apple Store in Palo Alto | Source: Kirstina Sangsahachart via Mercury News
The city issued the build permit for the store on Dec. 12, and according to Yvette Sheets-Saucedo of the Palo Alto Development Center, an application to tear down the Liddicoats building that currently occupies the lot is nearly complete. Construction crews have already completed a bypass tunnel for pedestrians to use when construction is underway.
Apple's first retail store opened in May, 2001 under the oversight of the late Steve Jobs and former Senior Vice President of Retail Operations Ron Johnson. The company has gone on to open over 350 international Apple Stores, and the retail spaces are considered to be among the most profitable in the world per square foot. Most recently, Apple opened the doors to one of its largest flagship stores at New York's Grand Central Terminal earlier this month.