Quicken for Mac 2007 being rebuilt to work with Mac OS X 10.7 Lion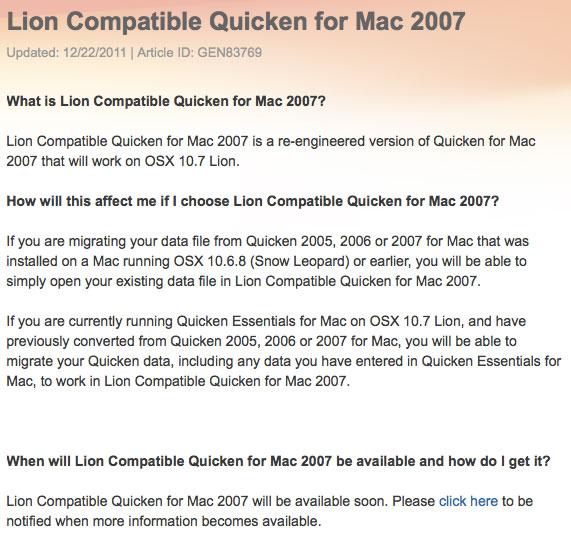 Intuit announced to customers on Thursday that it plans to release a "re-engineered" version of Quicken for Mac 2007 that will be compatible with the latest version of Apple's Mac operating system, OS X 10.7 Lion.
A note from Aaron Forth, general manager of the Intuit Personal Finance Group, was sent out to customers Thursday, acknowledging that the company has "not always delivered" on its promise to deliver the best products to Mac customers. In particular, he was addressing the fact that Quicken for Mac 2007 does not have compatibility with Mac OS X 10.7 Lion.
"I understand the frustration this may have caused you and have put a team in place to address this issue," Forth wrote. "I am happy to announce that we will have a solution that makes Quicken 2007 for Mac 'Lion-compatible' by early spring."
Details on the forthcoming release are available on Intuit's support website with a newly published list of questions and answers. There users can request to be notified when more information becomes available.
Forth told customers that the Quicken for Mac 2007 solution is "just a first step" in winning back the confidence of customers. Intuit is also expanding its development team to better support Mac users.
"I understand we have a way to go, but I wanted to start by communicating our commitment to Mac and look forward to sharing the details with you as they emerge," he said.
Intuit last overhauled Quicken for Mac with Quicken Essentials, released in early 2010. But its latest efforts aim to support legacy customers, who have been locked out from Quicken for Mac 2007 since Apple launched Lion in July.