iOS, Android reach 55% market penetration with US installed base of 109M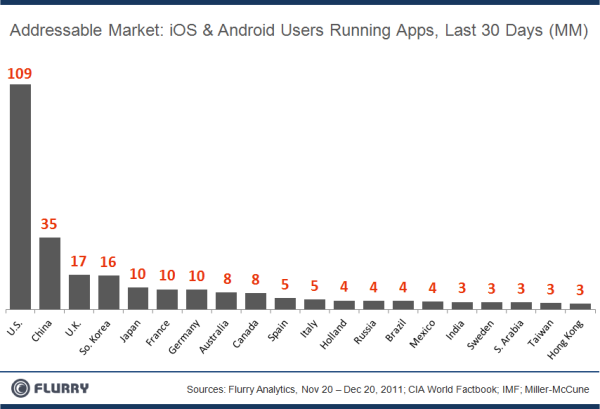 AppleInsider is supported by its audience and may earn commission as an Amazon Associate and affiliate partner on qualifying purchases. These affiliate partnerships do not influence our editorial content.
Apple's iOS and Google's Android together have reached close to 55 percent market penetration of the estimated 200 million potential smart device purchasers in the U.S., while the two platforms have the most room to grow in China, which has 122 million untapped potential users, according to a new analysis.
A study published by mobile analytics firm Flurry on Friday broke down the active installed base of iOS and Android across a number of international markets. According to the report, the U.S. maintains a strong lead, with an estimated installed base of 109 million users, or 41 percent of the global market.
The U.S. was followed by China which had 35 million active users. The U.K. took third place with 17 million users, followed by Japan, France and Germany, each with 10 million users.
To estimate the the active installed base, Flurry tracked its data-set of more than 140,000 apps to count the number of iOS and Android users that launched an app over the last 30 days. The report did note that, since it only counted recently used devices, its estimate of 264 million active users is roughly half of the cumulative totals that Apple and Google have announced, which count old devices as well.
In order to calculate the total addressable market, Flurry took the "adult" population counts from the International Monetary Fund and then calculated the size of the middle class in each country using a study by Miller-McCune. The firm also added on the estimated size of the upper class for each country and then subtracted out the current active installed base in order to arrive at the number of customers around the world who can afford a smartphone and are not using Android or iOS.
Not surprisingly, China, the world's most populous nation, was the top country, with a potential upside of 122 million users. Market research firm Strategy Analytics recently revealed that China became the world's largest smartphone market in terms of volume in the third quarter.
The U.S. came in second with 91 million untapped customers, followed by India with 75 million. Japan and Brazil rounded out the top five with 65 and 34 million, respectively.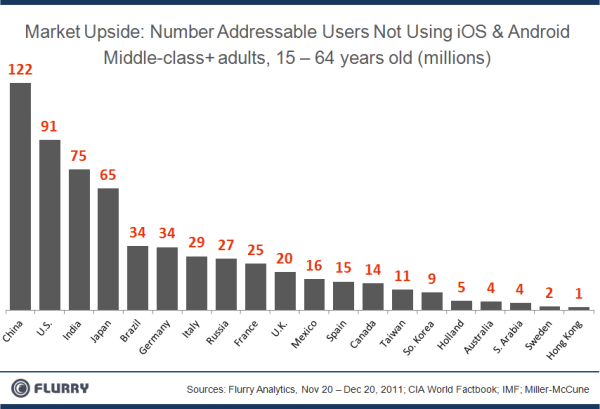 Flurry then compared active iOS and Android installed bases against the total addressable market to find which smartphone markets were the most mature, regardless of size. Sweden came out on top with 66 percent market penetration, followed by Australia and Hong Kong.
Among the top ten largest markets tracked by Flurry, India came in as the least penetrated with just 3.4 million active iOS and Android users and 75 million potential users. Japan also showed plenty of room for growth with an installed base of 10.3 million users and a potential upside of 65 million customers.
In just a few years, Apple and Google have risen to prominence in the smartphone market, with no signs of letting up. Android is likely to continue sustained growth worldwide, as Google executive Andy Rubin revealed earlier this week that daily activations for the platform have reached 700,000 units per day. Though the platform's growth has slowed some since this summer, it remains the largest platform in terms of volume in most markets around the world.
For its part, Apple is poised to post its best quarter ever for iPhone shipments and is guiding for record earnings that could represent the biggest blowout in history, with Apple's two largest markets, the U.S. and China, expected to lead the way. According to one recent survey, customers now rate Apple as the leading smartphone brand in China. Meanwhile, in its home country, the company expanded its carrier partnerships this year to include Verizon and Sprint, covering three of the four major wireless operators in the U.S.