Intel's Mac-bound Ivy Bridge CPUs rumored to launch April 8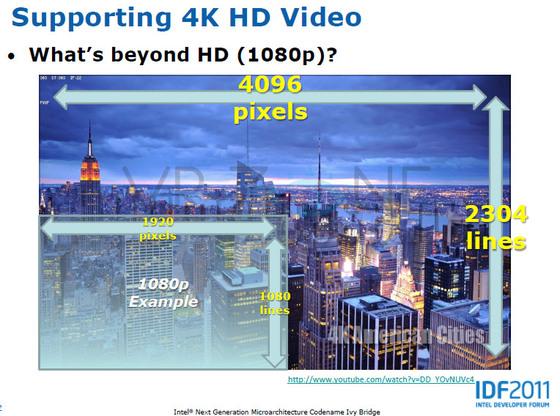 Intel is rumored to release a total of 25 new 22-nanometer Ivy Bridge processors on April 8, 2012, signaling a potential launch window for Apple's next generation of Macs.
Intel will release 17 desktop CPUs and 8 notebook Ivy Bridge processors in early April, DigiTimes reported on Wednesday. The initial chips are said to include models 3820QM and 3720QM, priced at $568 and $378, respectively, which could be candidates for Apple's MacBook Pro lineup.
The notebook Ivy Bridge processors will feature the new Intel HD Graphics 4000 architecture. Intel's M-Series lineup is expected to have nominal thermal design power of between 35 watts and 55 watts.
Set for a "later" launch, according to the report, are the Core i7-3667U and Core i5-3427U processors, intended for Intel's Ultrabook lineup. Those processors would also be possible candidates for Apple's own thin-and-light notebook, the MacBook Air.
Earlier reports have said the i7-3667U processor will be clocked at 2GHz, and can overclock to 3.2GHz in single-core mode, while the i5-3427U will run at 1.8GHz and overclock to 2.8GHz in single-core mode. Both models are said to feature a graphics processor clocked at 350MHz that can run as high as 1150MHz.
The rumored April 8 launch date for the first Ivy Bridge processors is slightly earlier than what a leaked roadmap from Intel showed earlier this month. Those documents showed a tentative launch date of May 2012 for the new chip platform.
Recent reports have pegged a MacBook Pro update from Apple to arrive in the second quarter of calendar 2012, a timeframe that would fit with the April debut of Intel's next-generation Ivy Bridge processors. The new MacBook Pros are rumored to feature a redesigned look with new high-resolution 2,880-by-1,800 Retina Display screens.
Retina Display MacBook Pros would be possible with Ivy Bridge because the next-generation architecture will bring support for 4K resolution. That gives Apple and other PC makers the option to build a display that is 4,096 pixels across.
For high-end MacBook Pro models with dedicated graphics cards, one report from November claimed Apple will switch to Nvidia for its 2012 notebooks. The last MacBook Pro models to feature Nvidia graphics arrived in 2010.
As for the MacBook Air, Apple is expected to expand the lineup and add a 15-inch model. Currently, its ultraportable notebook is available with screen sizes of 11.6 inches and 13.3 inches.