Purported parts for Apple's 'iPad 3' suggest 30-pin dock connector will remain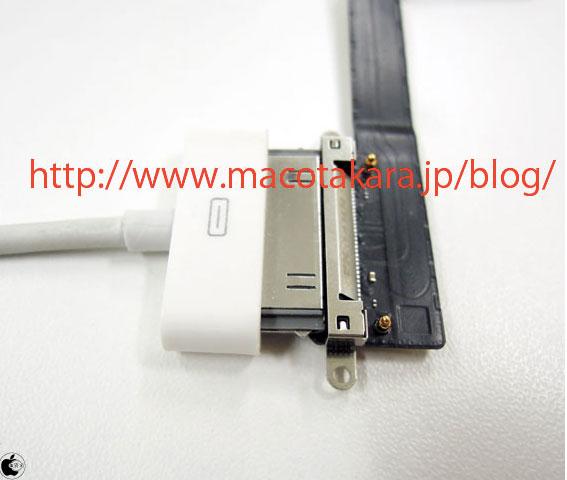 New components claimed to be from Apple's third-generation iPad show continued use of the 30-pin dock connector, potentially dispelling rumors that it would be replaced with a smaller form factor.
Japan's Macotakara ordered a handful of components claimed to be from prototype builds of Apple's anticipated third-generation iPad. The so-called "replacement parts" purport to be a microphone flex cable ribbon, power on/off flex cable, and dock connector charging port.
The dock connector is the most significant of the trio of components, because the 30-pin port still fits with Apple's existing iPod cable used on current iPhone, iPad and iPod models. The hands-on look at the part found that the cable sticks slightly shallower into the port, and the connector is shorter than before.
An earlier rumor about the next iPad's dock connector surfaced in October from the same website, suggesting Apple's third-generation iPad would feature a new, smaller dock connector. It was then claimed that the port would include the same 30-pin input and electricity specification internally, but it would be redesigned and smaller on the outside.
The current 30-pin dock connector was first introduced in Apple's iPod lineup back in April of 2003. It has been largely unchanged ever since, and Apple has even managed to squeeze the port onto its diminutive touchscreen iPod nano.
As for the other alleged third-generation iPad components, the power on/off flex cable includes a power button, rotation lock button, and volume button, suggesting all of those hardware features will be retained in the next iPad. The microphone flex cable is also said to be redesigned from the iPad 2.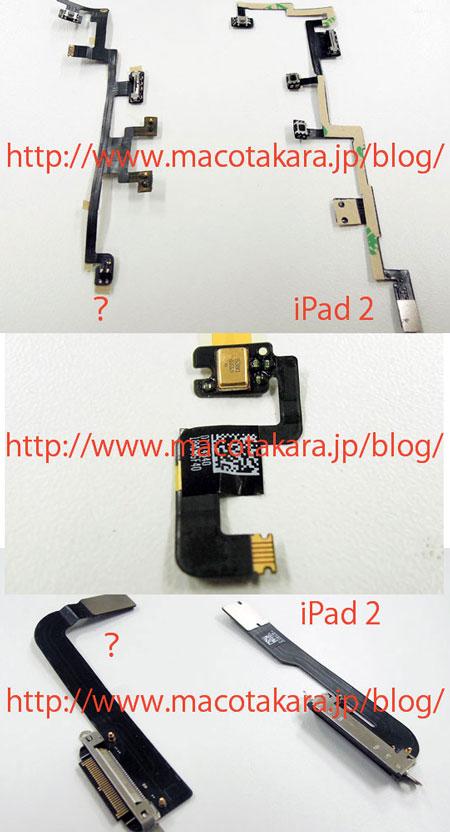 The parts were obtained from reseller TVC-Mall.com, which gained attention earlier this month when it was found to be selling the microphone flex cable ribbon replacement. Because the part shows a different arrangement in internal circuitry than with the iPad 2, it led to speculation that the internal components of a so-called "iPad 3" may feature a significant redesign.
The first purported iPad 3 part surfaced in July, and it too hinted at material design changes with the next-generation tablet, at least internally, due to different part numbers on a hardware component.