Hidden Stanford archive houses largest collection of historical Apple materials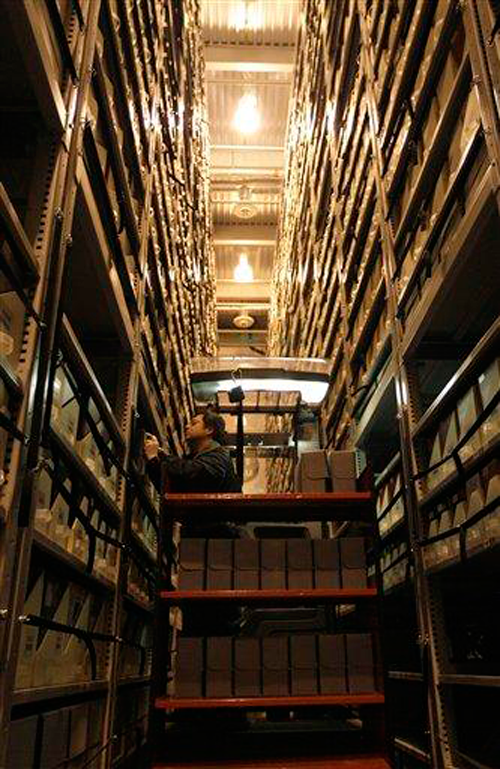 When Apple's financial hardships forced the company to abandon plans for its own corporate museum back in the late 1990s, the company elected to turn over its trove of materials to Stanford University's Silicon Valley Archives, which now retains the largest collection of such historic data in the world.
The Associated Press was recently granted access to the off-campus, climate-controlled warehouse where the university is preserving the material in "hundreds of box" requiring more than 600 feet of shelf space — but only after the news agency agreed not to disclose the facility's precise location.
Nestled somewhere on the outskirts of the San Francisco Bay area, the archive is said to include early photos of a young Steve Jobs and Steve Wozniak, blueprints for the first Apple computer, user manuals, magazine ads, TV commercials, company t-shirts and drafts of Jobs' speeches.
It's also home to a rare interview recorded more than two decades ago where Wozniak recalls how Jobs first proposed a name for their upstart during a drive down Highway 85 roughly 35 years ago.
"We're on the freeway, and Steve mentions, 'I've got a name: Apple Computer,'" he says on the recording originally made for internal purposes. "We kept thinking of other alternatives to that name, and we couldn't think of anything better."
"And also remember that I worked at Atari, and it got us ahead of Atari in the phonebook," Jobs adds.
Apple had been collecting the materials with the intention of forming its own company museum, but Jobs elected to scrap the idea upon his return to the company in 1997 as he raced to restructure the financially-strapped corporation and avoid bankruptcy.
As an alternative, Apple officials decided to contact Stanford and donate the materials. According to the AP, curators for the university archive arrived at Apple's campus days later and proceeded to fill two large moving trucks with "documents, books, software, videotapes and marketing materials."
Those items, along with others later donated by former company executives, early employees, business partners and Mac enthusiasts, now comprise the heart of Stanford's so-called Apple Collection.

A processor navigates the shelves at Stanford's Archives in Oct, 2011 | Source: AP Photo/Jeff Chiu
The university hopes its efforts will ultimately help historians, entrepreneurs and policymakers understand how a startup launched in a Silicon Valley garage by two college dropouts grew into the world's largest company and forever altered the landscape of technology and communication.
"What they were doing was spectacularly new," said Stanford curator Henry Lowood. "The idea of building computers out of your garage and marketing them and thereby creating a successful business - it just didn't compute for a lot of people."
Among the other items in the Apple Collection are:
Thousands of photos by photographer Douglas Menuez, who documented Jobs' years at NeXT Computer, which he founded in 1985 after he was pushed out of Apple.
A company video (above) spoofing the 1984 movie "Ghost Busters," with Jobs and other executives playing "Blue Busters," a reference to rival IBM.
Handwritten financial records showing early sales of Apple II, one of the first mass-market computers.
An April 1976 agreement for a $5,000 loan to Apple Computer and its three co-founders: Jobs, Wozniak and Ronald Wayne, who pulled out of the company less than two weeks after its founding.
A 1976 letter written by a printer who had just met Jobs and Wozniak and warns his colleagues about the young entrepreneurs: "This joker (Jobs) is going to be calling you ... They are two guys, they build kits, operate out of a garage."