Rumor: iPhone made up 66% of sales at AT&T corporate stores, Android 9%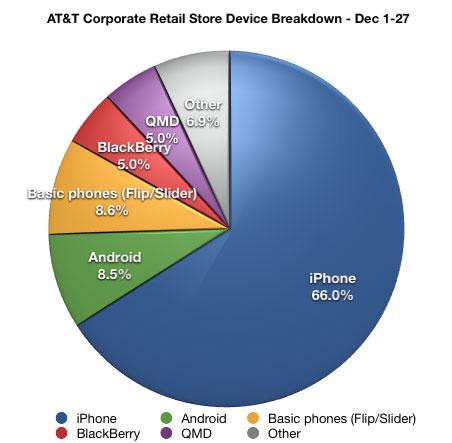 A new report claims Apple's iPhone comprised 66 percent of all device sales at AT&T's corporate retail stores in December, while Android is said to have taken an 8.5 percent share.
The Mac Observer cited a source inside AT&T on Friday as indicating that the company's stores sold 981,000 iPhones between Dec. 1 and Dec. 27. By comparison, 126,000 Android devices were reportedly sold during the same period.
Basic feature phones apparently performed better than Android at the stores, as 128,000 units were sold during December. Research in Motion's BlackBerry devices continued to languish, with just 74,000 sold this month. Microsoft's Windows Phone 7 fared even worse.
According to the report, the numbers only include AT&T's corporate retail stores, not authorized resellers, online sales, telephone sales or other retail outlets.
Of course, the iPhone's performance at AT&T corporate stores doesn't on its own reflect the device's overall market share. Given that AT&T was the original partner for the iPhone, Apple's handset has long been the best-selling phone on the network.
Recent third-quarter figures from comScore reveal that Android has reached a 46.9 percent share of the smartphone market, compared to Apple's 28.7 percent.
The publication was unable to confirm with Apple's PR department the numbers provided by its source, as the company declined to comment. AT&T did, however, reveal earlier this month that it expected to have its best quarter ever for smartphone sales because of "strong" performance of the iPhone 4S. The wireless operator sold six million smartphones in the first two months of the fourth quarter and is expected to handily beat its previous quarterly sales record of 6.1 million smartphones.
The iPhone accounted for 56 percent of AT&T's smartphone activations in the third quarter of calendar 2011, even as some customers held out for the iPhone 4S.
Apple CEO TIm Cook said last quarter that he is confident the company will "set an all-time record for iPhones" during the December quarter. The iPhone maker has guided for $37 billion in revenue during the period and is expected by some analysts to surpass the $40 billion mark.