RIM strangely charging same $299 for 16GB, 32GB & 64GB PlayBook models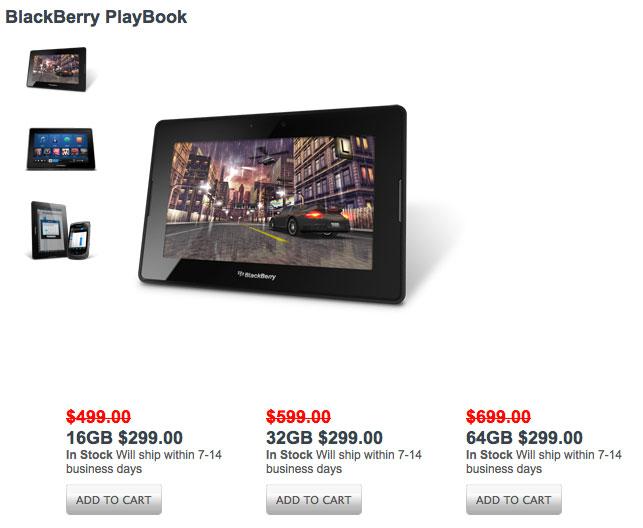 AppleInsider is supported by its audience and may earn commission as an Amazon Associate and affiliate partner on qualifying purchases. These affiliate partnerships do not influence our editorial content.
As Research in Motion is rumored to be planning for a major shakeup in its board of directors, the company has begun an odd sale in which all PlayBook models, regardless of capacity, are priced at $299.
The fire sale of RIM's struggling touchscreen tablet was first noted by Pocket-lint. The odd promotion features all PlayBook models available for the same price, meaning the high-end 64-gigabyte model can be had for the same price as the 16GB offering.
That means the savings are significantly bigger for the 64GB model, which usually sells for $699 but has been discounted by $400. The 32GB model is usually $599, a $300 savings, while the 16GB PlayBook has a regular price of $499, which leaves its savings at $200.
The sale is advertised to end on Wednesday, and is the latest in a number of promotions aimed at helping to move the product from store shelves. RIM revealed last month that unsold PlayBook inventory has cost the company $485 million.
The PlayBook sold just a half-million units in the first quarter of availability, and failed to become a serious threat to Apple's market-leading iPad lineup. Since then, sales have only dropped, and RIM sold just 150,000 PlayBooks in the third quarter of last year.
As the PlayBook fire sale is under way, The Vancouver Sun reported on Tuesday that RIM is strongly considering a "corporate shakeup" that could remove co-founders Mike Lazardis and Jim Balsillie as the company's chairmen. Barbara Stymiest, a director on RIM's board and former chief operating officer at Royal Bank of Canada, is said to be the leading candidate for the new chair.
"Sources say the evaluation process now underway at the company could result in a number of different options and that a final decision has not yet been made," the report said.
Last month it was said that RIM turned down multiple takeover offers from Amazon and other potential buyers. But the Canadian smartphone maker instead hopes to fix its own problems internally, even as one estimate has suggested RIM is worth less than Apple's App Store alone.
RIM's stock plummeted after the company announced last month that BlackBerry shipments saw a slight decline year over year. The company also delayed BlackBerry 10, its next-generation mobile operating system, until the second half of 2012, an arrival that some analysts believe will be too little, too late.