RBC exec said to be a "lock" to replace RIM co-chairmen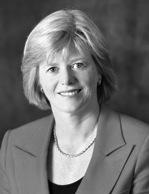 AppleInsider is supported by its audience and may earn commission as an Amazon Associate and affiliate partner on qualifying purchases. These affiliate partnerships do not influence our editorial content.
Royal Bank of Canada executive Barbara Stymiest is reportedly a "lock" to become the new chairwoman at Research in Motion as investors have become increasingly critical of co-chairmen Mike Lazaridis and Jim Balsillie.
Last year, in an effort to appease activist shareholders displeased with RIM's management, the Waterloo, Ont., smartphone maker formed a committee to investigate the company's corporate structure. That committee's report is due at the end of this month, with a response from RIM required 30 days after it is submitted.
John Paczkowski of All Things D noted on Friday that numerous sources have named Stymiest as the most likely replacement for RIM's co-chairmen.
"Stymiest is a lock for chairwoman," one insider told the publication. "The only thing that's unclear right now is the timeline for her appointment."
A second source noted that a final decision had yet to be reached, while corroborating the likelihood that she will be appointed. Stymiest, who serves as a member of RBC's Group Executive team, has been a director at RIM since 2007.
Analysts generally view the prospect of Stymiest taking the reins as a step in the right direction, though they note that it will take time to turn the company around.
"We would view such an announcement positively as we believe she will initiate a formal strategic review, possibly trim costs in the hardware business, and possibly announce additional partnerships; however, we continue to see an outright sale in the near-term as unlikely and see near-term results as challenged," Jefferies analyst Peter Misek told All Things D.
As RIM has struggled in recent years, its co-founders, who serve as both co-CEOs and co-chairmen, have taken the blame for its decline.
"There's a bigger problem than the market share erosion and product delays," one analyst told the publication off the record. "It's Mike and Jim."
2011 was a particularly harsh year for the BlackBerry maker. The company reduced its workforce in order to cut costs, saw its entry into the tablet market flop and faced delays to the new smartphone OS that it has hailed as its salvation.
After last quarter's lackluster quarterly results, which included a $485 million charge due to excess PlayBook inventory, Balsillie and Lazaridis cut their salaries to $1 and apologized for the company's performance.
"We ask for your patience and confidence," Lazaridis said during a conference call with analysts last December. "We realize we've not met expectations."
At the time, National Bank Financial analyst Kris Thompson viewed the BlackBerry 10 delay as potentially "the final nail in RIM's coffin," adding that a turnaround is "very, very speculative."
RIM's crumbling stock price has attracted the attention of interested buyers. The company shed more than 70 percent of its market value last year, prompting one analyst to speculate that Apple's App Store alone was worth more than all of RIM. Reports have suggested that online retail giant Amazon had approached BlackBerry about an acquisition, but RIM was said to have turned down the offers.