Apple's iPhone 4S propels iOS smartphone market share to 43% in Oct., Nov. 2011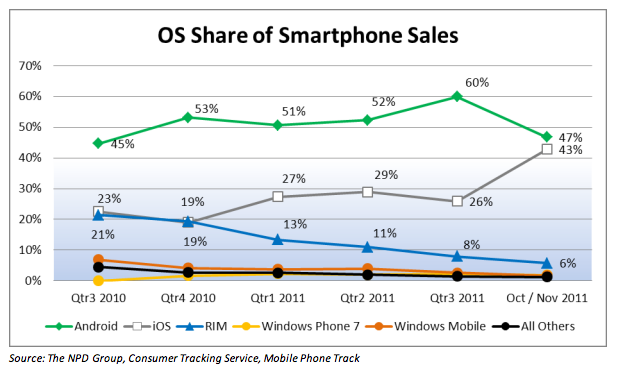 The release of the iPhone 4S has driven significant growth for the iOS platform, with one analysis finding that Apple's share of U.S. smartphone sales grew from 26 percent in the third quarter of 2011 to 43 percent in October and November.
According to research firm The NPD Group's data, Android smartphone sales dropped off from 60 percent in the third quarter of 2011 to 47 percent during the two-month period, as noted by TechCrunch. Research in Motion continued its decline, falling from 8 percent to 6 percent during the same time frame, while Windows Phone remained largely irrelevant with just a few percentage points of market share.
NPD characterized 2011 as the year the smartphone industry came down to a "two-horse race" between iOS and Android. A previous report from the firm had pegged combined iOS and Android smartphone market share in the U.S. at a crushing 82 percent during the third quarter of 2011.
With Apple and Google dominating the market, smartphone penetration continues to increase. According to the firm, smartphones comprised 67 percent of handset sales in October and November, compared to 18 percent for messaging devices and just 15 percent for basic phones.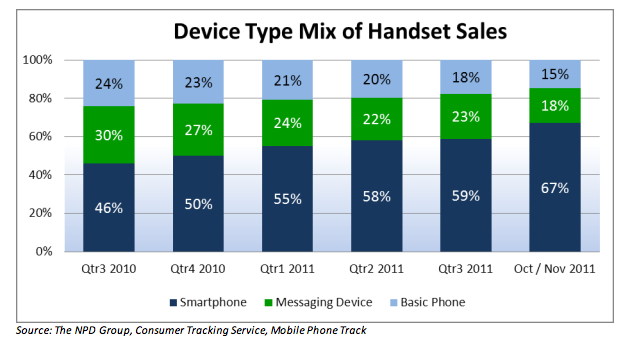 As for individual phone models, Apple dominated the competition in the first two months of the holiday quarter by taking the top three spots for best-selling handsets. The iPhone 4S was the most popular, followed by the iPhone 4 and the iPhone 3GS. The Samsung Galaxy S 4G took fourth place, followed by the Samsung Galaxy S II. Devices by HTC, Motorola, LG and Samsung rounded out the rest of the top 10.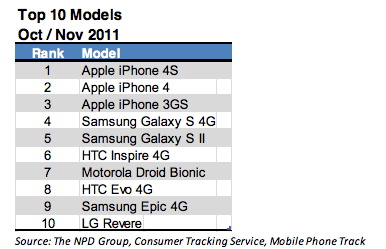 It's possible Apple will have caught up to Android even more when the month of December is included in market share calculations. Christmas Day iOS activations appear to have outnumbered Android activations by 1.6 million units, though those numbers include tablets and media players in addition to smartphones.
Google Android boss Andy Rubin revealed last month that Christmas Eve and Christmas Day activations totaled 3.7 million devices, while Flurry Analytics reported that 6.8 million new iOS and Android devices were activated on Christmas Day, implying 353 percent growth compared to earlier in the month.
Though Apple's older iPhone models have continued to sell well, pent up demand for the iPhone 4S is likely the largest growth factor for iOS in the smartphone market. After reaching a peak in the second quarter of calendar 2011, iPhone sales actually declined sequentially in the third quarter of the year as customers held off on purchasing new handsets in anticipation of a refresh.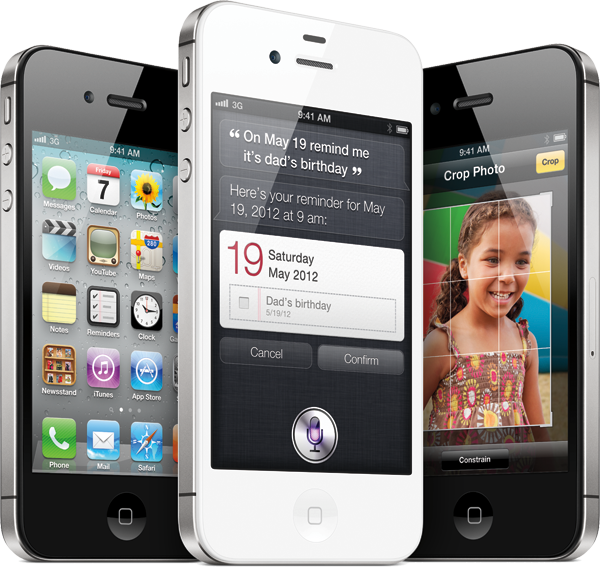 Apple is widely expected to report soaring iPhone sales when it announces its December quarter results on Tuesday, Jan. 24. The consensus estimate among a poll of professional analysts stands at 29.74 million, while the average forecast among independent analysts and bloggers is 33.4 million units.
The iPhone's growth momentum could also carry into 2012, as a recent survey of North American consumers revealed that 54 percent plan on buying an iPhone.