iPad may make Apple world's largest PC maker in holiday Q4 2011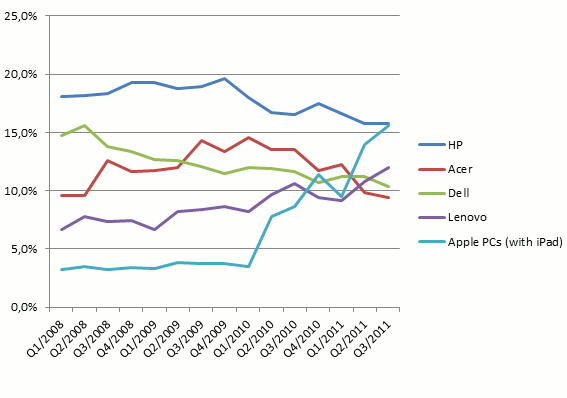 AppleInsider may earn an affiliate commission on purchases made through links on our site.
Apple's fiscal Q4 iPad shipments in the September quarter were enough to propel the Mac maker into a near tie in unit sales with global PC maker HP. When Apple releases figures for the final quarter of 2011 later this month, it may become the world's largest PC maker.
After Fortune published a graphic showing the huge impact of Apple's iPad sales on PC market share, Sebastian Peitsch of German blog Apple Outsider painstakingly researched PC market share figures back through 2008 to offer a corrected version.
His graphic portrays what Garner would have reported since 2010 if the research company weren't artificially excluding the iPad from its PC market share figures, a tactic it suddenly initiated alongside the launch of the iPad after years of including Microsoft's Tablet PCs, UMPCs and other tablets in its official PC numbers.
Gartner is likely to begin counting Windows 8 tablets, some of which are expected to use ARM chips, as PCs out of fealty to the company that has funded much of its research.
Adding iPad sales back to Garner's figures dramatically shows how Apple overtook Lenovo and Dell after just three quarters of iPad sales in its first year, then rebounding the next year with iPad 2 to arrive right on the heels of HP's PC sales in the third calendar quarter of last year.
Apple is expected to report sales of around 13 million iPads in the fourth quarter and more than 5 million Macs, which may be enough to beat HP and become the world's largest PC maker ahead of schedule.
NPD Group reported last week that consumer electronics sales were down across the board in the US, but specifically noted that desktop PCs were down 2 percent, while notebook sales were down 5 percent. That's in sharp contrast to Apple's rapidly growing sales of iPads and Macs.
Previously, research firm Canalys predicted that Apple would overtake HP to become the top PC maker in the world next year, a conclusion HP's chief executive Meg Whitman agreed with before expressing hopes that HP could win back the title of being the top PC maker in 2013.
Beyond unit sales, Apple already leads the PC market in revenues and profitability. Each Mac and iPad Apple sells impacts the sales of both Microsoft and its PC partners, and in the case of ARM-based iPads, also takes a hit on Intel's chip sales. Intel, Microsoft and their PC partners are hoping that a new crop of Ultrabooks and tablet designs running Windows 8 will lure buyers back to non-Apple PCs.
However, both Intel and Microsoft are reportedly hoping to maintain high component prices for PC makers, a strategy that is likely to keep Windows 8 tablets prices between $599 and $899, the same price that appeared to kill any interest in Android 3.0 Honeycomb tablets in 2011.