Apple leads shift of global chip buying from PCs to iPad, smartphones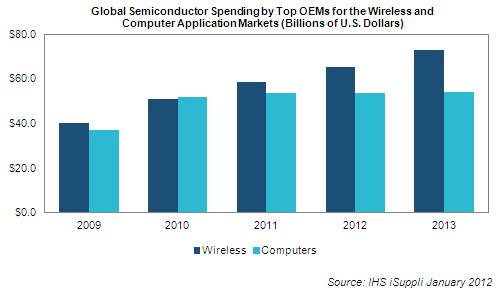 AppleInsider is supported by its audience and may earn commission as an Amazon Associate and affiliate partner on qualifying purchases. These affiliate partnerships do not influence our editorial content.
As the largest buyer of semiconductors worldwide, Apple is leading a global trend in chip expenditures that has pushed wireless devices past the sales of computer chips.
According to a report by IHS iSuppli, wireless devices have become the largest consumers of the semiconductor market, now accounting for 24 percent of the chips sold.
Analyst Wenlie Ye said the increase among wireless devices was "spurred by prodigious mobile handset and tablet sales exemplified by the runaway success of Apple's popular offerings."
While chips bound for wireless devices have passed the consumption of PC semiconductors before (among the world's top Original Equipment Manufacturers), this time the trend appears permanent.
Chips sales for wireless products last year amounted to $58.6 billion, an increase of 14.5 percent over 2010's $51.2 billion in sales. In contrast, PC chip sales last year grew just 4 percent to $53.7 billion, up from $51.8 billion in 2010.
Ye stated, "wireless will continue to generate the most growth during the next two years. A substantial portion of the segment's increase will be due to rising tablet sales, although mobile handsets like smartphones will continue to account for the lion's share of semiconductor segment in the wireless area."
Apple's voracious appetite for chips
Last week, Gartner announced that Apple had become the world's largest buyer of semiconductors.
IHS iSuppli notes that Apple has a particular lead "In the fast-growing tablet space," having spent $4.6 billion on tablet chip components in 2011. "The iPad continues to be unmatched in its class despite earnest efforts from rival products to loosen its hold on the market," it noted.
The second place consumer of chips in the tablet market is Samsung, which spent $603 million, followed by HTC, which bought $199 million worth of tablet-bound chips last year.
Apple's chief executive Tim Cook stated in last week's quarterly earnings conference call that Apple sees iPad as a "huge opportunity for Apple over time," reiterating the idea that the company's management believes "there will come a day when the tablet market in units is larger than the PC market."
Cook added, "We're just going to continue to innovate like crazy in this area. And we think we can continue to compete with anyone that is currently shipping tablets, or that might enter in the future."