Apple leads pack in America's five year race to deploy digital textbooks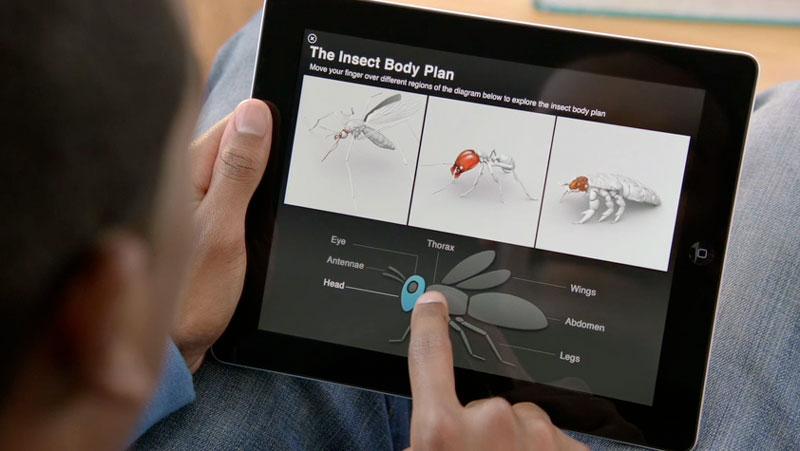 Apple's newly minted iBooks Author initiative targeting dynamic digital textbooks for iPad-adopting schools is getting a strong push from the Obama administration, which has outlined a challenge for schools and the industry to make the move from old media over the next five years.
Speaking in Gahanna, Ohio, a suburb of Columbus, US Education Secretary Arne Duncan and Federal Communications Commission chairman Julius Genachowski unveiled an initiative to shift schools to digital textbooks over the next five years. The announcements come just two weeks after Apple released new tools to simplify the publishing and deployment of such texts.
"Do we want kids walking around with 50-pound backpacks and every book in those backpacks costing 50, 60, 70 dollars and many of them being out of date?" Duncan said in an interview with the Associated Press. "Or, do we want students walking around with a mobile device that has much more content than was even imaginable a couple years ago and can be constantly updated? I think it's a very simple choice."
The government has published a guide to promote the use of such digital textbooks, advocating a shift in resource spending from conventional paper books that typically remain in circulation for half a decade to tablet-based digital editions that can be updated live over the network.
In what sounded like an endorsement of Apple's iBooks 2.0, the FCC's Genachowski pointed out, "when a student reads a textbook and gets to something they don't know, they are stuck. Working with the same material on a digital textbook, when they get to something they don't know, the device can let them explore: It can show them what a word means, how to solve a math problem that they couldn't figure out how to solve."
"We're not talking about the print-based textbook now being digital. We're talking about a much more robust and interactive and engaging environment to support learning," the report cited Education Department office of education technology's Karen Cantor as saying.
Highlighted at the event was a transition from books to conventional laptops by Joplin, Missouri, which occured after several schools were wiped out by a tornado last spring. The report noted that the United Arab Emirates donated the funds needed to buy each student a laptop.
"The UAR gift was undoubtedly generous," wrote a reader commenting on the report, "but this country should be profoundly embarrassed that similar funding was not easily and immediately available in this country. What's wrong with us that we no longer fund our own technological advances?"
Angie Besendorfer, Joplin's district assistant superintendent, said the transition to digital textbooks has "proved difficult for some kids accustomed to a standard routine of answering questions at the end of a chapter," a specific feature addressed by Apple's iBooks Author tools.
She added, "it's a little bit more work on the side of the students in that they are having to think and problem solve and do things differently, and some of our kids are not so fond of that, whereas other kids like it a lot."
iBooks, iTunes U already in place
Apple isn't entirely alone in promoting the idea of digital textbooks. Amazon introduced a large format version of its eInk reader dubbed Kindle DX back in 2009, aimed at displaying textbooks and newspapers. Apple's strategy of delivering hardware and the authoring tools to create dynamic, engrossing content is unique however.
Other countries, notably South Korea, have had plans in place for years to push students to digital learning. In 2007, the nation initiated a plan to push tablets free to all students. It selected hardware built by LG and HP, essentially a Windows XP touch screen Tablet PC that costs $1,100 per unit.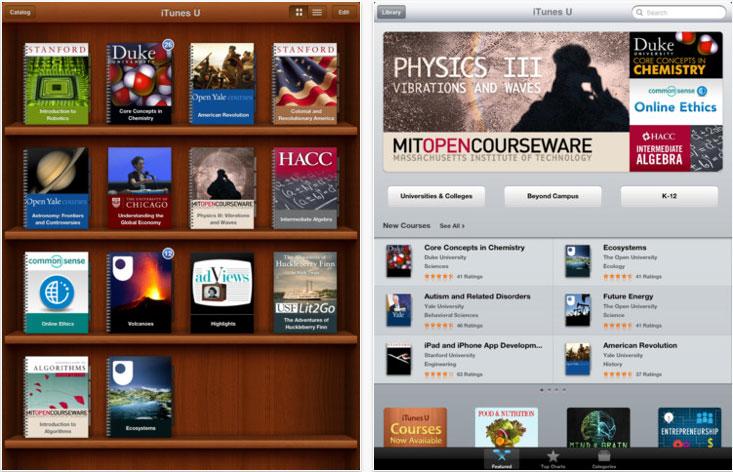 In addition to digital texts, Apple has also encouraged higher education institutions to publish and distribute their educational video podcasts through iTunes U, an initiative the company recently enhanced (above) to serve full course material educators of all grades can use to plan classes and teaching programs, with integrated support for digital textbooks.