29% of Kindle Fire owners plan to spend more at Amazon, but only 54% very satisfied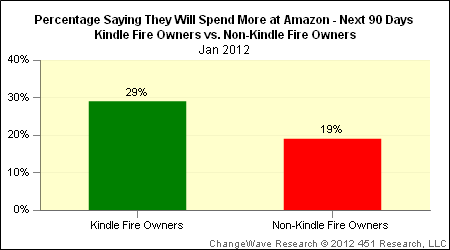 AppleInsider is supported by its audience and may earn commission as an Amazon Associate and affiliate partner on qualifying purchases. These affiliate partnerships do not influence our editorial content.
A new survey has revealed that 29 percent of Kindle Fire owners plan to spend more money at online retailer Amazon, but only 54 percent of them said they were very satisfied with the device.
Research firm ChangeWave conducted a survey in January of over 2,600 North American consumers and learned that, on average, 20 percent of online shoppers plan to spend more money on Amazon.com in the next 90 days. Among Kindle Fire owners, which reached 6 percent of respondents, that number rose to 29 percent, while non-Kindle Fire owners averaged 19 percent.
The news should come as a relief to Amazon, given its strategy of selling the Kindle Fire at a loss while banking on increased profits from content sales. The company announced its fourth quarter 2011 earnings on Tuesday, disappointing Wall Street with a 57 percent decline in net income despite the fact that Kindle sales were up 177 percent year over year.
Amazon chose not to reveal how many Kindle Fire devices it had sold during the quarter, but one analyst hazarded an estimate of six million units.
The data also showed Amazon to have a dominant position in the e-commerce market. Only 20 percent of respondents said they did not plan to make a purchase on Amazon over the next 90 days. By comparison, 78 percent of consumers said they had no plans to spend money on Walmart.com and 65 percent said they did not see themselves buying anything from eBay.com during the same period.
Not all of the survey results brought good news for Amazon, though, as a question on whether Kindle Fire customers were satisfied with the device prompted just 54 percent to respond that they were very satisfied. An additional 38 percent said they were somewhat satisfied. That compares to results from a November 2011 survey that found 74 percent of iPad users and 49 percent of other tablet device users to be very satisfied with their respective tablets.
ChangeWave went on to note that past surveys have shown that the percentage of respondents who say they are very satisfied with a device is "highly predictive of future demand for that device."
The cost of the Kindle Fire was by far the most-liked aspect of the device, as 59 percent of respondents selected the option. The tablet's color screen was the second-most popular with 31 percent of votes. As for dislikes, 27 percent of owners said the the lack of physical volume buttons was what they disliked most about the tablet, while 21 percent went with the lack of a camera.