Canalys crowns Apple top Smartphone vendor in 2011 as iPad surges past PC growth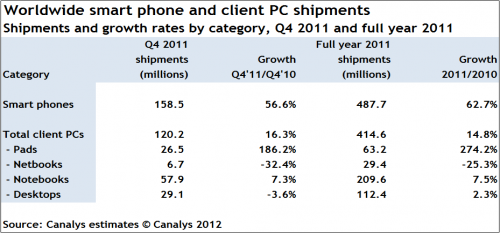 AppleInsider may earn an affiliate commission on purchases made through links on our site.
Smartphones passed up PCs for the first time last year, with Apple leading that industry while iPad accounted for most of the growth among computers, alongside moderate sales of notebooks, nearly flat sales of desktops, and a sharp decrease in netbooks.
Apple now leading the pack at top smartphone vendor
Apple "smashed the record for the most smartphones shipped globally by any single vendor in one quarter" the report noted, with sales of 37 million iPhones that beat Nokia's previous quarterly record of 28.3 million.
"Apple's performance meant that it displaced Nokia, for the first time, as the leading smart phone vendor by annual shipments," Canalys stated, turning around figures reported by Gartner in the third calendar quarter giving Samsung the lead.
The figures, reported Canalys, are interesting in that they highlight the trend toward mobile devices over the conventional PC.
"Vendors shipped 158.5 million smart phones in Q4 2011, up 57% on the 101.2 million units shipped in Q4 2010," the research firm noted. "This bumper quarter took total global shipments for the whole of 2011 to 487.7 million units, up 63% on the 299.7 million smart phones shipped throughout 2010. By comparison, the global client PC market grew 15% in 2011 to 414.6 million units, with 274% growth in pad shipments. Pads accounted for 15% of all client PC shipments in 2011."
In the report, Canalys VP and principle analyst Chris Jones wrote that "smartphone shipments overtaking those of client PCs should be seen as a significant milestone. In the space of a few years, smart phones have grown from being a niche product segment at the high-end of the mobile phone market to becoming a truly mass-market proposition."
Comparing smartphone sales to PCs is not the most controversial view of consumer electronics accounting Canalys has performed. The firm's counting of iPads among conventional PCs has perturbed Windows enthusiasts throughout the industry, as it fails to flatter Microsoft in the way that IDC and Gartner have historically bent over backward to do.
The firm's breakdown of desktops, notebooks, netbooks and "Pads" is particularly interesting because it demonstrates not just the tremendous growth of the iPad at the expense of conventional PCs, but the parallel shifts from desktops to notebooks, and the rapid collapse of netbooks, a market pundits once insisted Apple needed to enter to remain relevant.
Specific to smartphone growth, Jones explained that while "the greater availability of smart phones at lower price points has helped tremendously," there has also occurred "a driving trend of increasing consumer appetite for Internet browsing, content consumption and engaging with apps and services on mobile devices," all facets of the smartphone market optimized and popularized by Apple with the iPhone.
The firm notes that it expects smartphone market growth to slow this year as "vendors exercise greater cost control and discipline, and put more focus on profitability," an issue highlighted by recent figures showing that Apple now makes 75 percent of the industry's profits while building just 9 percent of the phones sold.
Canalys noted that growth in shipments of Android licensees' products outpaced Apple's iPhone shipments in the quarter and in the year, but Android's percentage of growth over the previous year has slowed, from 244 percent in 2010 to 149 percent in the final quarter of the year. Apple's rate of growth in smartphones has accelerated.
The report stated that "Samsung's success and focus on Android have contributed substantially to the growth of the platform, but other vendors, such as Sony Ericsson, Huawei, Motorola, LG and particularly HTC, have also seen significant growth in their Android volumes over the course of 2011." Looking at mobile profits rather than unit sales, Android licensees Sony Ericsson, Motorola and LG all failed to make any money in the last quarter.
The firm stated that "RIM's demise in 2011 has been over played by some, with the company ending the year as the fourth largest smart phone vendor and delivering annual unit growth of 5%."
Canalys figures indicate that Samsung's Bada platform grew substantially over the past year, accounting for roughly double the shipments of Microsoft's Windows Phone 7 platform (which suffered a substantial, negative growth in sales for the year, shrinking by over 43 percent).