Apple removes blatant copycat apps from App Store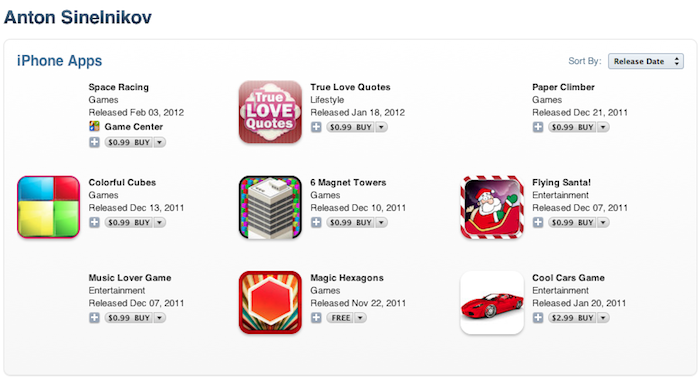 Apple has removed from the App Store a number of copycat applications that closely mimicked the titles of successful games after they provoked a public outcry from developers over the issue.
Applications whose names and features piggybacked off of popular games such as Temple Run, Tiny Wings and Words with Friends were taken down on Friday, as noted by TechCrunch.
The fraudulent apps were largely the work of developer Anton Sinelnikov. As of early Saturday, Sinelnikov had nine applications available in the App Store, including some that still appeared to be ripoffs of other apps.
The Guardian brought the issue more into the public spotlight on Friday with a profile on the developer and his "misleading apps." Sinelnikov, however, is not alone in his efforts, as dozens of other applications from other developers have attempted to dishonestly capitalize on the successes of others.
Calls for Apple to take down the offending apps were made by numerous developers and users alike on Twitter earlier this week. Keith Shepherd, the creator of Temple Run, noted on his account that an app like Temple Jump "taints the integrity of the App Store." After Apple pulled the app, Shepherd posted that he was "thankful."
Apple has dealt with this issue before and has even faced criticism for being overly proactive in removing apps that are perceived as knock-offs. Last month, one developer accused game maker Atari of leveraging a "special relationship" with Apple to have as many as "hundreds" of applications resembling its own games taken down.
Google's Android platform also faces similar problems, especially given the lack of an official review process on the official Android Market. The open nature of Android has even led to criticism by some content owners, developers and security firms over potential copyright infringement and malware concerns. The Mountain View, Calif., company recently revealed that it has begun employing a malware detector, but some security researchers wanted to see more from the company and continued to call for increased supervision on the platform.